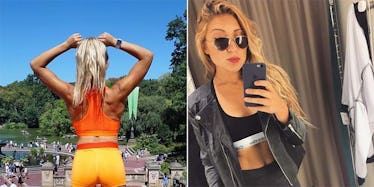 6 Ways To Brand Your Fitness Journey On Social Media Like An Instagram Star
If you're a 20-something scrolling through Instagram on a daily basis, you're well aware of the current fitness boom. Alyssa Bossio, a 23-year-old pro fitness model, knows all about it. In fact, she was an early adopter of the #fitspiration health wave.
Back when Instagram was barely a year old, Bossio launched Fittlyss, a personal IG page dedicated to tracking her journey to a healthier lifestyle. Fast forward four years, and Bossio is now a full-blown Instagram star who has amassed nearly 2 million followers on her meal prep Instagram page, how2mealprep. Her personal page Fittlyss isn't too shabby either, racking up nearly 550 thousand followers.
Today, fitness brands are more commonplace than Kardashian news. Exercise businesses like ClassPass pop up every day. Lady entrepreneurs are building profitable businesses by sharing their journeys (and trendy new yoga pants), whether they work out on the couch or hit SoulCycle twice a day.
However, Bossio says keeping up with fitness trends and posting pics is harder than a nine-to-five gig.
"I'm reaching out to people every single day, answering tons of emails, editing all the pictures and making sure everything looks clean and professional," she says. "People think it's this silly job where you don't do anything, but I spend 20 out of 24 hours a day working."
It's incredibly taxing to create a consistent and successful fitness brand. Thankfully, the self-proclaimed pizza and cookie lover (on cheat days!) tells us how it's done.
Find a fitness blueprint.
Before you brand your booty workouts, research your favorite fitness brands. Don't make your brand a copy-and-paste version of Fittlyss, but learn the ropes from someone successfully growing his or her brand.
Bossio also suggests reaching out to as many fitness accounts you love for advice.
"Learn tips from them, like what kind of pics you want to take and what works," she says, adding that she reads through comments on other fitness pages to see what followers gravitate toward.
To stay inspired for your own brand, constantly keep up with fitness branding trends and posts.
Don't limit yourself to one platform.
Sticking to one social media platform can completely alienate potential followers. While most Millennials have pages on every platform from Twitter to Periscope, there are faithful Facebook fans out there dying for some fitspo as well.
Market to your target audience through as many social sites as you can, says Bossio, who recently launched a Facebook page to connect with more followers.
To show off your workouts and those Alala leggings you love, start building on two or three platforms and springboard your brand from there.
Don't fake the fitness.
With perfectly sculpted fitness models sprinkled about our timelines, it's easy to get consumed with the idea of perfection. Women who eat clean 24/7 and take sweat-free workout pics are unicorns, so Bossio advises brand-building newbies to be as real as possible.
"I don't want people to think I'm living this amazing lifestyle all the time," she explains. "I write lengthy, inspirational captions to show the reality behind my photos."
Most often, Bossio sticks to whole, unprocessed foods, but she openly admits (and posts) her weaknesses.
"I love pizza and I eat cookies a lot. I've just learned how to balance it out pretty well," she says.
Whether you pose for those perfectly "candid" pics or skip the gym for two days, make sure every post is a reflection of your real life.
Return the love.
Followers aren't guaranteed, so show your appreciate for their brand loyalty.
Like Bossio, repost a follower's #TransformationTuesday to return the love and congratulate his or her hard work. Bossio uses this same supportive method to rack up business deals.
"I'll direct message companies and fitness models I want to work," she says, hoping to eventually team up and cross promote each other's brands on social media.
Tag your favorite sneaker brand the next time you post a gym selfie. If it has great brand etiquette, it'll share your pic and maybe even post it.
Be personable.
Along with being authentic, you must also be personable to grow your brand, Bossio stresses. Ensure your brand is a reflection of your personality, be it a goofy pizza addict or a tea-sipping hipster.
To further show who you are, interact with your followers.
"Do meet-ups with them," she advises, revealing that she does one-on-one snaps with her fans.
The more your followers know who you are at your core, the more trust you develop between them and your uber-fit lifestyle.
Don't mindlessly promote for a paycheck.
Though brand endorsements are a major cash cow, Bossio begs you to avoid cosigning harmful goods for profit, especially detox teas.
"They suppress your appetite," she says. "They make you feel like you're losing weight, but you're losing water and muscle mass. You're destroying your metabolism and really hurting your body."
Understand what you're endorsing to ensure you're not sharing deadly products or vouching for an unethical brand. Since you've committed to making good health your number one priority, only emphasize safe workout programs.
It's no walk in the park to feel your best, let alone brand it. Every day won't be as perfect as Jada Pinkett-Smith's abs, but if you balance trial and error with these Fittlyss-approved branding tips, you can create a fitness dynasty.