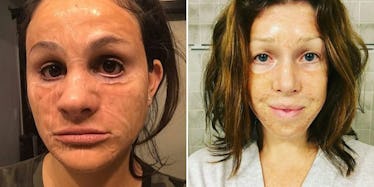 This Terrifying 'Grandma' Face Mask Could Be The Key To A Fresher Face
Instagram Instagram
There really are no lengths most of us won't go to for the sake of our skin.
I mean, for Christ's sake, people are even taking needles to their faces in order to open up their pores.
So, it was shocking to me that this simple Hanacure face mask was able to scar me as much as it did.
The K-beauty treatment, which is called the All-In-One Facial, contains peptides to promote collagen growth and botanical extracts to moisturize the skin.
The combination of these ingredients act to tighten the skin and give it a radiant glow, and even Drew Barrymore is a fan.
But, it's gone viral on Instagram for a different reason. Why?
This new face mask literally makes you look like you died three days ago.
In order to get the creepy AF look, the kit includes Lifting Serum, Gelling Solution and a brush. You prepare the mask yourself, adding the Serum to the Gelling Solutions pod and mixing thoroughly.
Then, channel your inner Picasso, pick up that brush and paint that goop all over your face with the passion of a thousand Beyoncé songs.
When you first put it on, it will look like you just dipped your face in a bucket of cum.
Do not be alarmed.
It's said to take about 30 minutes to dry (perfect, one episode of "Family Guy"), and when you're done, you get to be part of this new viral sensation that is the "grandma mask."
Reviews from the Hanakure site range from unimpressed to absolute enthusiasm:
Not much difference from one mask. I was expecting more noticable results from all the claims of what the mask could do... its alright, not worth the price for the results
— Sara E.
Obsessed! Immediately after applying it tightens up and I can feel it working. When I take it off my skin is as smooth and soft as it is after a $200 facial.
— Kate P.
I can't understand why anyone would post a pic of themselves looking like this, but if there's one thing the internet loves, it's re-branding foolishness and calling it bravery.