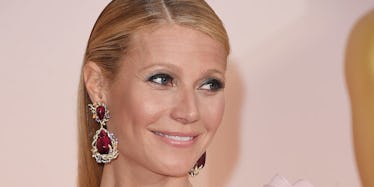 The One Thing Gwyneth Paltrow Wants To Teach Her Daughter About Beauty
Getty Images
Gwyneth Paltrow is many things: an actress, an entrepreneur, a mom, a country singer, an internet joke and, now, a beauty guru.
The lifestyle curator's newest project is Goop by Juice Beauty, an organic skincare line that's the first to bear her brand's name (Paltrow's clean makeup collection is just called Juice Beauty). The line contains Paltrow's six essential essentials, ranging in price from $90 to $140.
While in NYC doing press for her launch, Paltrow sat (well, stood) with beauty editors to talk about her inspirations. One of the first to come up? Apple, her 11-year-old daughter with Coldplay lead singer Chris Martin.
Remember how embarrassing your mom was in middle school? Imagine what it's like to be the daughter of a woman who's famously outspoken about living a "clean" life, eating organic and paying attention to what goes onto your skin. She just wants to buy some glitter eyeshadow, OK, Mom?
But, as it turns out, Paltrow isn't as strict a mother as our own might have been. She worries about giving her kids enough freedom to "experiment," trying out different lifestyles for themselves.
"I let [Apple] buy things that she wants to buy. But, I talk to her a lot about products," Paltrow said. "She ordered a 180-eyeshadow palette from China that was, literally, like $1.89. I was like, I don't know what to say. I can't imagine what is in this product, but at the same time I want her to feel her own autonomy."
Paltrow wants to protect her daughter from the harsh carcinogens and chemicals found in many inexpensive beauty products. Equally, she's also trying to teach her about the importance of inner beauty. If she can teach Apple one personal beauty philosophy, it's that beauty, cosmetics and skincare are only quick fixes.
"I hope that the main thing she will have learned about beauty from me is that, irrespective of anything, she is beautiful," Paltrow explained. "She is an intrinsically beautiful human being. Beauty is fun and it can be a wonderful expression of who you are and playing dress up and feeling good, but I hope that underneath that all she'll know her value and worth and feel beautiful because of that."
Aw, that makes us feel emotions in the way only moms can.