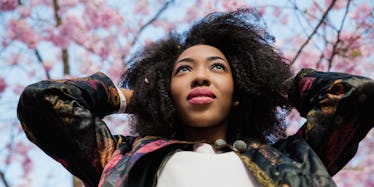 5 Hair Products That Will Help Your 'Lob' Grow Out Past That Awkward Stage
I firmly believe that my quality of life and the quality of my hair run along a parallel path. Dandruff and split ends accurately reflect when I'm falling apart inside, just as shining, full hair indicates I'm killing the game.
Why I decided to hang onto the thin, crispy witch hair brushing my collarbone for so long is beyond me — the split ends were truly hard to look at — but I did it. I finally cut the dead strands off, turning my hair into a blunt, shoulder-length bob. I was left with a thick, healthy haircut that was actually on trend for once.
Another benefit to chopping off crusty hair is giving it the opportunity to grow out evenly. Short 'dos are great and all, but I would love to have long, luscious hair swinging around my boobs. Now that my dead ends are in a landfill somewhere, I'm taking advantage of this summer as the season for growing out my hair. (Emotional growth can wait until next year – you know, once my hair looks amazing.)
Assuming at least a few of my Internet peers intend on growing out their lobs this summer too, I've curated a selection of the best hair products in every category – cleansing, conditioning, protecting, and styling.
Christophe Robin Cleansing Purifying Scrub with Sea Salt
Co-washing is not a permanent solution to the damage harsh surfactants and foaming agents can cause when you're shampooing daily. Excessive oil and product build up can inflame the skin around your hair follicles, and prevent hair growth. That's bad. Bad bad bad.
Christophe Robin's Cleansing Purifying Scrub with Sea Salt is my saving grace. I wash my hair once per week — maybe twice if I throw in a super sweaty workout — and use the opportunity to give my hair and scalp the deep cleaning it needs. Only one tablespoon of Christophe Robin's shampoo scrub is needed to cleanse hair, and it's easily emulsified with a bit of water for creamy suds.
I'm still iffy on the concept of these chunky salt granules reaching my scalp to scrub it effectively, but when dissolved, sea salt possesses healing properties beneficial to the skin.
My head used to feel like a coconut cake (dandruff for miles), but all symptoms of an unhealthy scalp have vanished with this treatment. Plus this shampoo smells mad good. Kind of fresh and lemon-y, like a summer perfume.
Christophe Robin Regenerating Mask with Rare Prickly Pear Seed Oil
Christophe Robin's Regenerating Mask with Rare Prickly Pear Seed Oil is the perfect counterpart to the aforementioned salt scrub. I have never in all of my days tried a silicone-free conditioner with such insane detangling and smoothing power. I'm convinced this product could turn a hay into pure silk.
Inula flower promises to restore pigment in both natural and colored hair. Antioxidant-packed prickly pear seed oil and a special plant ceramide help to restructure and moisturize hair strands. After a couple weeks of treating your hair with this mask, you'll throw out your clip-in extensions with glee.
Living Proof Perfect Hair Day Fresh Cut Split End Mender
Living Proof is a cosmetic nerd's dream, thanks to its MIT bioengineering background and dope marketing. To me, Living Proof is one of the only brands creating innovative products instead of simply recycling the same old concepts. Let me try and pull myself together long enough to talk about the Split End Mender. I'll try, but it's hard because I love it so much.
Other products that claim to mend split ends basically glue them together with gunky and tacky formulas that coat the cuticle, and make you look greasy and ugly.
Lie a hair strand coated with Fresh Cut under a microscope and watch the ends zip together into a unified strand. Living Proof products are light and residue-free across the board — perfect solutions for girls who style daily, and rarely shampoo. I like to apply Fresh Cut to wet hair before any other styling products, but the formula is thin enough to apply on dry hair for a touch-up, as well.
Bumble and Bumble Repair Blow Dry
Would you have sex without a condom? No. Would you blow-dry your hair without a heat protectant? Hell no. Choose to even look at a blow drier the wrong way without a serum, and prepare to shed tears over a bathroom floor littered with strands of broken, brittle hair.
Bumble and Bumble's Repair Blow Dry does the Lord's work for hair frequently exposed to heat. This serum-in-cream contains vegetable proteins and hydrolyzed wheat proteins to restore strength to the hair cuticle while simultaneously protecting against heat and UV damage.
After working this into damp hair before a blowout, it's hardly necessary to reach for an additional serum before flat ironing or curling. (I do anyway because I'm borderline bald and don't want to risk it, but it's not a requirement.) Bumble products are perfect for layering without creating unnecessary weight.
Davines OI Absolute Beautifying Potion
Hair oils are simply the topcoats of hair products, attracting and sealing moisture into the cuticle. Real moisture doesn't come from oil, but from water. Here's a sneaky trick for you: immediately after showering, apply a quarter-size amount of oil to your hair while it's still dripping. Oil is best applied on sopping wet hair before towel drying to lock as much water as possible. This method not only makes detangling easier, but also helps you avoid frizz.
On days that I wear my hair naturally, I use this technique before bed and let my hair free until it's about 70 percent dry. I sleep in two French braids, and wake up with soft and smooth curls. This texture is perfect for a messy bun or cute curly ponytail. The look makes me feel very Lisa Bonet.
Out of the millions and bajillions of products I've eliminated through trial and error, these are the absolute best. Of course, there's always room for new friends, so if you have any hair saviors of your own, slide through my DMs immediately.