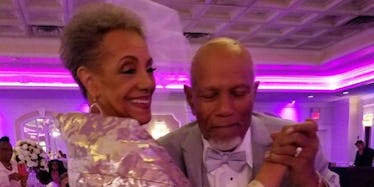 This Glam Grandma's Wedding At 86 Will Give You All The Feels
I'm a sucker for a love story, especially an unexpected one.
Keep your beautiful, 20-something newlyweds, your prom kings and queens. What I'm looking for is an unconventional relationship, like that of 86-year-old Millie Taylor-Morrison.
The grandmother just got hitched for the second time, nearly a quarter of a century after her husband of 41 years died.
Morrison's timeless style and purple dress have since gone viral, and it makes total sense that she's so fashionable. The classy grandma spent the 1940s and 1950s working as a professional model. Looks that good can't possibly fade.
On October 16, the Huffington Post reports the fabulously dressed lady walked down the aisle to meet Harold Morrison, 85, at Newark, New Jersey's Zion Hill Baptist Church.
Adorably, the couple has known each other for more than 60 years. Harold even attended Morrison's first wedding. The pair became friendly again after volunteering in the same religious ministry program.
But then, Harold fell ill. The pair wanted to live together, so there was only one thing left to do: tie the knot.
Khadija Elkharbibi, Morrison's granddaughter, told the Huffington Post,
As a Christian woman, she felt strongly about not having a man in the house without being married and she wanted to be a role model for her granddaughters.
Ah, the romance. Like generations of guilty Christian brides before her (most several decades younger), Morrison strolled down the aisle.
In a move that's a wink and a nod to her advanced age, Morrison tagged her wedding photos #BlackGirlMagic.
As of publication, more than 800 fans have visited Morrison's Facebook page to "like" a photograph of her in a lilac gown.
Morrison, beating out the rest of grandparent-kind, has even figured out how to update her Facebook page accordingly. Either that, or she has a relative or two helping her out.
You might think the highlight of the viral attention would be the compliments, but Morrison thinks otherwise.
Today, she updated her status to read, "@KellyRowland just tweeted me! I am so humbled!!"
When a former Destiny's Child member tweets at you, you've really made it.
Here's wishing these two newlyweds years of happiness and health. You go, Millie.
Citations: This Stylish 86-Year-Old Grandma Just Got Married And Outshined Us All (Huffington Post)