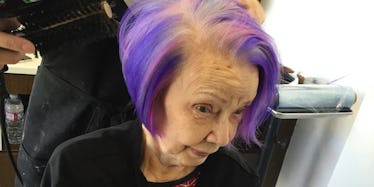 This Purple-Haired Grandma Proves There's No Age Limit On Awesome
Jessica Lesaca
One of the most liberating things a woman can do is dye her hair. In one salon session, mousy brown hair becomes a rejuvenated, vibrant dream with the help of a few caramel highlights in just the right places.
It's hard to imagine someone spending her entire life without experimenting with different hair colors. Up until recently, however, one woman went 86 years without ever touching her hair.
Olaplex, a hair repair treatment company, recently posted an Instagram photo of an adorable grandmother who wanted to surprise her family by dying her white hair for the first time. Helen Magcalas, 86, decided to color her hair after seeing her granddaughter, Jessica Lesaca, switch up her look with colors like blue and red.
Lesaca told Elite Daily her grandma wanted to get "rainbow hair" like her for an upcoming family wedding. Colorist Jessica Gonzalez layered on shades of purple to create a "cotton candy" effect for Magcalas' new 'do.
"She was nervous at first, but once she started seeing the progress, she got excited," Lesaca said. "By the time we did the unveiling, a little crowd had grown around my grandma. We all couldn't stop smiling and giggling at how cute she looked with her cotton candy hair."
After posting the photo, Olaplex received thousands of positive comments and likes on Instagram, and with good reason. The result is both adorable and totally fierce. Not many women would have the guts to go this bold.
Lesaca took a video of the big unveiling on her phone, and this reaction is priceless.