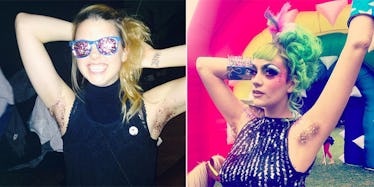 Glitter Pits Are The Latest Feminist Beauty Trend To Make You Sparkle
Ladies, #GlitterPits are the femme version of your guy's sparkly beard.
This shimmering craze has joined top beauty trends on Instagram, and it's perfect for feminists.
Full disclosure: We stumbled upon this trend while searching for "glitter bush."
Decorating your pits in pretty, galaxy-inspired sparkles is an anti-shaming campaign similar to the #FreeYourPits movement that took over social media earlier this year.
More women are tossing razors aside to give their armpits a little shine. There's no shame in this underarm game.
Since it's sweater season, you're practically on vacation from shaving. You might as well join in on this hair-friendly look.
Try out this trend at that New Year's Eve party your bestie is making you attend. Or, better yet, feel free to keep your gleaming glands your own little secret.
Either way, peppering your pits with glitter sends a powerful, dazzling message.
Glitter can absolutely make your pits more desirable.
What's better than fighting armpit-shaming while sweating gold specks?
Oh, the joy you'll feel after adding a bit of shimmer to your pits.
They're like tiny ornaments for your underarm tree.
Bedazzle your breasts to add to this glitter party.
Glitter pits deserve the perfect photograph.
This power pose works, too.
Even if others join in, your glitter pits are still the star of the show.
Pit candy is even more badass when it's dyed.
You get the point.
Pit-tastic.
Raise your arm if you want in on this trend.