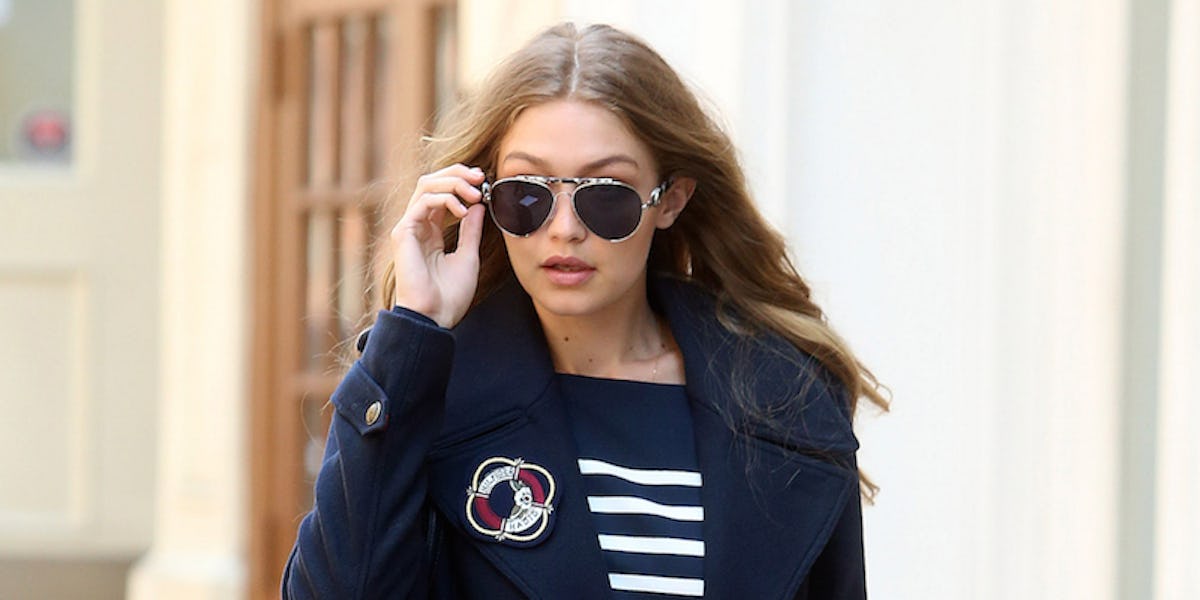 Gigi Hadid Just Used Her Boobs To Hold Sunglasses In A Totally Genius Way
REX/Shutterstock
Being a lady is a tough job.
You're not only expected to paint on a whole new face before leaving the house and make sure your hair air-dries in the effortless waves of Beyoncé, but also you're supposed to make a style statement every day.
Listen up: I'm tired. You know who else is tired? Gigi Hadid.
The supermodel, who just finished up four weeks of runway modeling, was photographed walking Paris in comfy jeans and a sweater.
Best of all, Hadid revealed a lazy-girl style trick for the ages. Instead of ruining freshly blow-dried hair by storing her sunnies on her head, Hadid stuck one arm through her visible bra.
This strategy accomplishes two things at once: Hadid doesn't stretch out the arms of her Oliver Peoples sunglasses, and she also holds her white T-shirt in place perfectly.
Seriously, this girl is a genius. Your boobs are built-in storage devices, as I've always said.
UV protection aside, Hadid's strategic positioning provides the opportunity to show off her lacy bra. If there's one trend we're seeing again and again, it's exposed lingerie — a little boudoir outside the bedroom for fall, paired with luxurious accessories like fur and velvet.
In this case, Hadid's gone with an oversized Jonathan Simkhai knit sweater, another style that's popping up everywhere.
Because Hadid's T-shirt is so simple, it puts the décolletage front and center. That's a move I also admire, although the woman who's dating Zayn Malik doesn't have to convince me she's  dynamite.
Hadid should pass her styling trick on to BFF Kendall Jenner, who just posted a photo wearing thin, metal frames that look rather delicate. If you're trying to make granny-style glasses happen, you have to be sure not to bend them.
Try the trick yourself the next time you take you sunglasses off indoors, instead of cramming them into your tote bag and subsequently losing them forever in that black hole.
Put your boobs to use, and go totally hands-free.