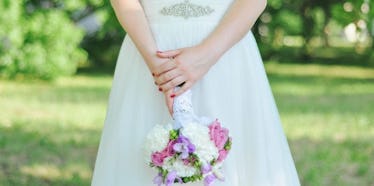 Getting Married Too Late In Life Will Make You Fat, Science Says
Jovana Vukotic
As if there aren't enough things to worry about when it comes to our futures, a new study from the University of Arizona is now saying that women who get married later in life are more prone to weight gain than those who tie the knot earlier.
Awesome. That's just great.
Here's the good news, though: The reasons why older women entering marriages gain weight aren't super clear or fool-proof.
According to DailyMail.com, the study's lead author and director of UA College of Medicine's Office of Continuing Medical Education, Dr. Randa Kutob, explains it could ahave something to do with lovey-dovey, older couples sitting down and eating large meals together versus divorced, post-menopausal women who are more likely to make smaller portions and watch their food intake and health more carefully.
Kutob says, "Potentially it's portion size because it doesn't seem to be related to their food choices."
For the study itself, researchers observed post-menopausal women (ages 50 to 79) over a three-year period. These women were broken into in the following groups: women who went from single to married, women who began married and then divorced and women whose marital status did not change over the three years.
They also considered multiple health variables including weight, waist size, blood pressure, diet, exercise and drug and alcohol consumption.
Women who began single and found marriage overall gained about two more pounds than their unmarried counterparts. The study also revealed that divorce could, in some cases, cause weight loss.
Kutob explains,
Earlier studies on marriage and divorce have shown that marriage is usually associated with a longer lifespan and fewer health problems, while divorce is associated with higher mortality. The interesting thing we found in our study is that with divorce in post-menopausal women, it's not all negative, at least not in the short term.
Additionally, according to the study, researchers found that the weight loss that came with a divorce was not due to emotional distress or depression like one might expect after a traumatic event, but rather seemed to be due to healthier decisions in both food and exercise.
So, what does all of this mean? Well, nobody panic. The extra few pounds older women gain after a later-in-life marriage seem to be, for the most part, harmless and due to an uptick in bigger meals, whereas older divorcee's are just getting their revenge bod in order.
For Kutob, it helps her understand how she can best arm her patients for life transitions.
As a health provider, my takeaway is that I should be thinking about marital transitions, and when people get married, say congratulations, but also give them some advice and tools for their health and encourage all women as they age to continue being physically active.
This study was consisted of over 160,000 women over the course of 15 years.
Citations: Women who get married in middle age are MORE likely to be obese because they eat more romantic dinners - while late-life divorcees hit the gym Read more: http://www.dailymail.co.uk/health/article-4199486/Getting-married-later-life-make-obese.html#ixzz4Y6p011oE Follow us: @MailOnline on Twitter | DailyMail on Facebook (Daily Mail), Marital Status May Impact Women's Health (UANews)