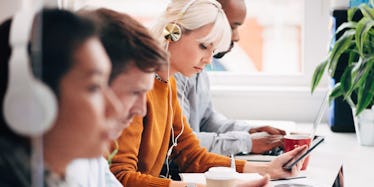 Why We Still Have A Gender Pay Gap More Than 50 Years After The Equal Pay Act
Aila Images
Today marks Equal Pay Day, meaning today is the day when women's pay has caught up to men's pay from last year. Each year, Equal Pay Day sheds light on how far we still have to go in the fight for pay equality. You might be asking yourself, how is this still legal?
Technically, the Equal Pay Act of 1963 made it illegal to pay men and women different salaries for similar work. This is great news for women, except the act came with a long list of fine print that made the law difficult to enforce. Then there was the Civil Rights Act of 1964 that made it illegal to discriminate in the workplace based on race, religion and of course, gender.
That should be the act that finally makes a difference, right? Wrong, and it's still not enforced. Fast-forward to the (almost) present, when Obama proposed the Paycheck Fairness Act, which would add procedural protections to the Equal Pay Act of 1963 to further address and enforce the gender pay gap. As of September 2014, the Senate Republicans were able to block this legislation from being passed for the fourth time. This leads young women everywhere to question, just where are we headed?
To date, the numbers still speak for themselves. On average, women earn 79 cents for every dollar that men earn. When we're talking cents, this might not seem too staggering. However, a report from The National Women's Law Center found that women lose more than $430,000 over 40 years of working.
If you go further into breaking these numbers down by race, African American women lose over $877,000, and Latinas lose more than a million dollars. These numbers cannot only affect their quality of housing and access to medical treatment, but it can also impact sectors of the economy. After all, lower pay means fewer dollars spent at local businesses, investing in new ventures and saving for retirement.
These are sobering statistics, since women comprise nearly half of our workforce, and some women are the primary breadwinners for their families. That's why celebrities and athletes have been taking it upon themselves to demand action.
A few months ago, Jennifer Lawrence wrote an essay in Lenny Letter on how she made less than her male co-stars for "American Hustle." More recently, the US women's national soccer team sued the US Soccer Federation because they think it's a bit unfair they're paid as little as 40 percent of what the men's team gets paid. Even though they won the World Cup championship, the men's national team has never even gone past the round of 16.
Over 50 years ago, the Equal Pay Act was recognized as the first step toward addressing compensation discrimination. While the US has made progress in providing greater opportunities for women in the workforce, we are nowhere near done. The 2016 election will be a pivotal moment for whether progress will be possible in the near future.
However, instead of sitting back and leaving it to the politicians, it's time to take a note from J Law and the US women's national team and speak up. If you think you are being underpaid, justify why you should receive more. While some companies may validate gender discrimination, not all companies do. Know your worth and fight for it. Politicians may run the country, but they don't run your life. If history has shown us anything, it's that we all have the opportunity to fight for what we believe in.