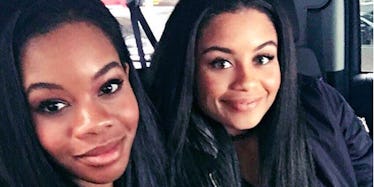 Gabby Douglas Talking About Her Sister Will Make You Want To Call Yours ASAP
In professional sports, winning means everything. Even during the Olympics, a world-wide show of peace and companionship, you'd be hard-pressed to ignore the intensity in every athlete's eyes.
But once the points are tallied and gold medals awarded, there's an elite group of people entrusted with the very important task of keeping their competitor humble.
For Olympic gold medalist Gabby Douglas, that's her family. In particular, it's her oldest sister Arielle Hawkins.
Although the two might be six years apart, Gabby and Arielle have teamed up for Allergan's #ActuallySheCan Mentorship initiative. A female role model can change the course of your life, and the sisters hope to nudge others to follow in their footsteps.
Douglas, who's the youngest of four children, credits her big sister with making the most important observation of her life: noticing she was exceptionally flexible and couldn't get enough of flipping around the house.
She tells Elite Daily,
She just saw that I had a talent for the sport and she encouraged my mom to put me in. So, I just thank her all the time for actually getting me started in gymnastics.
In an extreme version of a sisterly day out, the pair posed for a portrait shot by famed fashion photographers Inez and Vinoodh. Then, of course, they took selfies in the car home from the studio.
Douglas credits her big sister with keeping her focused during long days when practice didn't go perfectly.
She says,
When I would have hard times at the gym, she'd always help me, put me back on track and just really talk to me… Our relationship has stayed the same, but we've matured over the years.
Interestingly, Hawkins played a crucial behind-the-scenes role in her little sister's success: She designed the gymnastics leotards. That same creative spirit has led her to pursue a career in fashion.
But, as Douglas is quick to point out, few people would have made the sacrifices Hawkins did to support her. As the oldest, she became a sort of pseudo-parent, especially in a single-parent household.
Douglas explains,
She's pretty much given up her whole life for me, and she's helped with me everything. I'm so grateful to have a sister like her who's not jealous, not catty... I'm also excited for her to start building her own career and start launching her fashion line.
In truth, there's nothing quite like the adoration a little sister feels for her older siblings. Hawkins and Douglas are no different.
That's why they're backing a campaign encouraging young women to find mentors.
She says,
It's all about... sharing a positive message and being a role model to these young girls and women. I'm all about being positive.
Positivity is a cause we can get behind.
To learn more about #ActuallySheCan Mentorship, visit ActuallySheCan.com/mentorship.