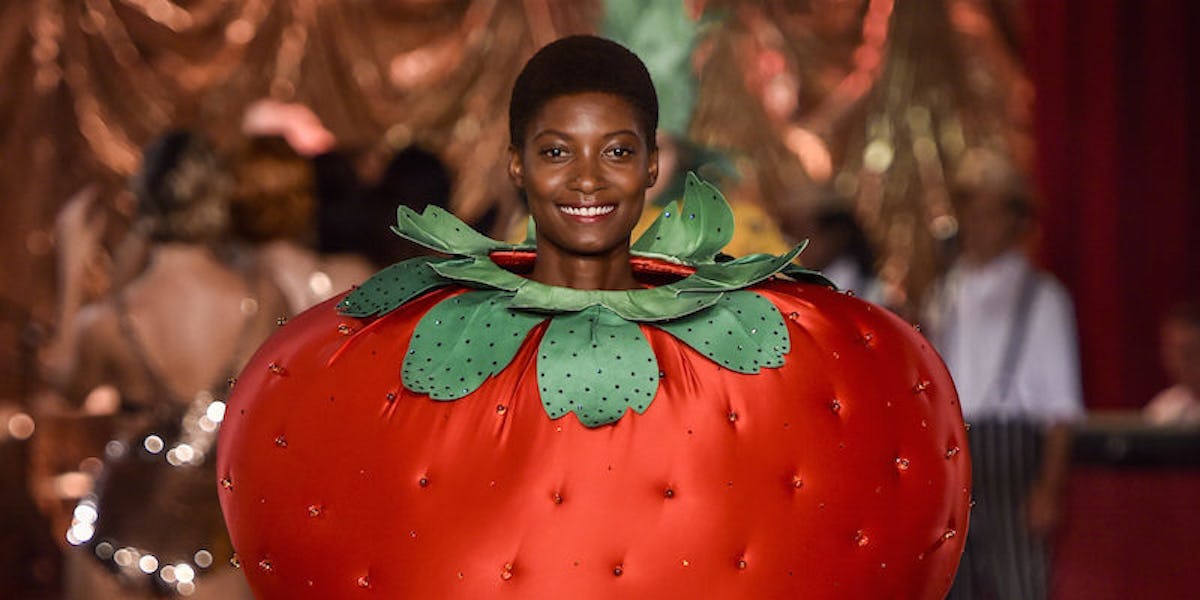 Models Walked The Runway Dressed As Fruit Because Fashion Has Gone Too Far
REX/Shutterstock
Quick question: What does an oversized fruit costume make you think of? Chiquita Banana, the potassium mascot, perhaps, or maybe a set of dudes in cotton underwear?
Well, I have news for you. Fashion and fruit now go hand and hand, especially if Charlotte Dellal has anything to say about it.
The founder of brand Charlotte Olympia busted out a banana-tastic London Fashion Week show that featured both a chorus line of dancing ladies and statuesque models dressed as watermelon and grapes.
Charlotte Olympia is probably best known for her whimsical cat-ear ballet flats, worn by stars like Katy Perry and Taylor Swift. Her designs often incorporate lips, bows, stilettos and the like.
Picture a brand like Betsey Johnson, if Betsey Johnson took a barre class and posed for pin-up photography.
For the "Let's Go Bananas" show, part of London Fashion Week, the brand took the opportunity to create a tropical paradise for its viewers.
All the crowd needed was a few of those fishbowl margaritas that come with about five straws to get the party started.
The ebullient collection featured stilettos emblazoned with fruit salad, banana heels and watermelon wicker baskets to match.
I imagine the woman buying these accessories is a modern day Zelda Fitzgerald — party on the outside, weird, dark impulses on the inside.
It takes a very particular kind of lady to pull off shoes that look edible.
As for the clothes, a mostly uniform shade of off-white? Very Audrey Hepburn on her way to a Mexican cabana.
The fashion show is only the brand's second ever, so let's hope it stays this astonishing over time.
In the meantime, I'm off to see where bananas fit into my office dress code.
Citations: Charlotte Olympia London Spring/Summer 2017 Ready-To-Wear Collection (Vogue)