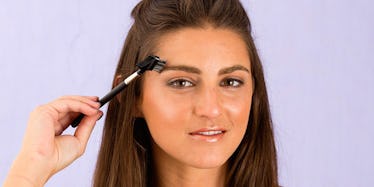 You Have To Try This Eyebrow Technique French Girls Can't Get Enough Of
Kurt Andre
When it comes to destinations (and people) we seek inspiration from, there's one high on the list – France!
On a recent trip to Pinterest, we got the scoop on what French girls are Pinning right now, including their favorite new beauty trend: next-level eyebrows. We oohed and aahed at the wild brow moments and had to take them to a wearable level.
The most important look is, undoubtedly, the highlight brow. The full brow gives off a bit of sunkissed shimmer, hinting at long days spent on the beach without going overboard. It's perfect for a night barbecue or a rooftop party. You'll be surprised at how subtle it can look, especially paired with a deep tan.
Prep: Bronzed Base Makeup
Keeping your skin base bronzed and glowing is a great way to tie in these reflective brows!
Step 1: Creamy Highlight
Use a creamy golden shade like Benefit Cosmetics Sun Beam Complexion Highlighter. Apply with a flat angled brow brush and go a little thick with the application. This will be your base for the golden shimmer shadow in the next step. 
Sun Beam Complexion Highlighter, $26, Sephora 
Step 2: Golden Shimmer Eyeshadow
Next, using the same brush, apply a reflective golden eyeshadow like MAC Cosmetics Gold Pigment over the highlighter. 
Gold Pigment, $22, Macy's 
Step 3: Blend
Finally, use an eyebrow brush to lightly blend the pigment into your brows.
Finishing Touch: Mauve Lips
We thought this look was best when we added a little bump of color to her lips! Ashley is wearing Buxom Wildly Whipped Lightweight Liquid Lipstick in Devious Dolly.
Wildly Whipped Lightweight Liquid Lipstick, $21, Sephora 
The final look? Magnifique!