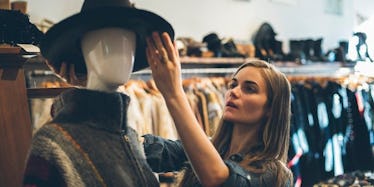 How To Wear Your Festival Clothes To School Without Looking Confused AF
Between Bonnaroo, Coachella and EDC, your summer wardrobe probably consists of enough fringe, feathers and tie-dye to dress half of Woodstock.
Instead of shoving it to the back of your closet until next summer, or better yet, donating it to Vanessa Hudgens (how else would she have so many fringe vests?) here's a novel idea: Wear them to school. Hey, just because summer break is over doesn't mean the weather went with it.
Concert outfits get a bad rap and that's not totally fair. Most shows take place when it's hot as balls out, so you're dressing for comfort -- and those cute fringe dresses and relaxed band tees are about as breezy as it gets. Sure, you can't wear the exact same outfit to school, but with a few alterations, you can mix a few fun pieces with your more prim and proper goodies.
Time to dig all that festival gear out of your closet and wear it for one last hurrah.
Knee-High Gladiators
Those Mel Gibson warrior-style kicks aren't solely 'Chella-worthy. Rock a pair with a mod shift dress and lightweight army jacket to give it a more modern, less Coliseum-y vibe.
Important toe PSA: Just because summer is over, doesn't mean you have an excuse to let your toenails go. A pedi is just as important now as ever.
Old School (or not) Band Tee
You probably already wear band tees on off-days, but the look is just always so blah when paired with skinny jeans. Instead, opt for your favorite pair of boyfriend jeans and infuse a classic vibe with a point-toe oxford or Chelsea boot. A deep wine shade on your lips can make it look like you spent an evening drinking the stuff, and you know what Cher says: "Anything you can do to draw attention to your mouth is good."
Way-Too-Short Denim Cutoffs
Jorts: a summer staple, but difficult to style for school unless you want a trip to the principal's office. Instead of pairing your favorite cutoffs with a crop top or a form-fitting tank, wear with an oversized white button-down in a heavier fabric (no chiffon or silk!) that covers your ass. Take the "borrowed from the boys" aesthetic to a whole new level by pairing the look with brogues.
Alessandra Ambrosio-esque Fringe Dress
Rule numero uno of fringe: Don't be an asshole. Pair your fringe-tastic frocks with some chunky Chelsea boots (this is the only place where a platform is acceptable) and a minimalistic backpack.