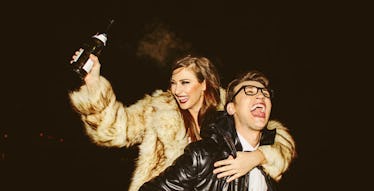 Fashion Looks: Conservatively Sexy
Stocksy
Many women are opting for a conservative style when it comes to clothing. A lot of my friends and acquaintances who chopse this style often ask me if I have ideas on how to "spice it up." For some of them, it's simply a question of re-inventing their looks without drastically changing it, for others it's simply a question of discovering or re-discovering the sexiness that lies in their everyday outfits.
This article is dedicated to the women who want to "spice things up." We live in a world of many options. Here are some selections that will make you even more conservatively sexy.
The man suit
The "man suit" on women is a smooth operator, which will leave many in "awe." This trend, which was initiated by Coco Chanel revolutionized women's fashion. By daring to make this fashion piece initially designed for men into a unisex fashion, Gabrielle "Coco" Chanel added edge and fierceness to our wardrobes. It is another timeless must have.
Heidi Klum "wowed" us in an "all red" suit at the launch of her perfume; Katie Holmes was sweet and sexy in her Max Mara suit, while Victoria Beckham showed us the many different ways of styling this look. Every week, Kerry Washington as Olivia Pope shows us a sweet new way of wearing suits on "Scandal." All of them opted for a stunningly sexy conservative look with an edge.
Designers from all over the world are re-designing it and giving us an "array of options." From Dolce and Gabanna, to YSL with a quick stop at Top Shop and Zara, the choice is ours.
The Pencil dress and skirt
This is another attractive classic look. From Kate Middleton to Beyoncé, women love this fashion piece. Designers like Victoria Beckham made it "theirs," cutting it in different shapes and offering it to us in a rainbow of colors. This look is also very affordable as you can get it for as low as $19.15 in stores such as ASOS with a choice of over 200 pencil dresses and skirts.
They also come in different fabric. One that I personally love is leather. This will definitely bring more "sexy" back into your conservative wardrobe.
The Maxi Look
Dare to show a little bit of skin in your maxi look. Whether it's in a maxi skirt or dress; don't be afraid to wear one with a little slit like the Duchess of Cambridge in her Roland Mouret maxi dress. Wear a fitted or loose maxi skirt with a T-shirt, a tank top, a v-neck shirt or a crew-neck long sleeve top (as seen on Model Jourdan Dunn, for example).
The maxi look, especially maxi skirts are really fun to wear. You can dress it up with whatever you want at the top and stay true to your style. For this look, accessories are essential. Don't hesitate to accessorize your maxi look with a belt or jewellery.
The Jumpsuit
This is one look that will "spice up" your wardrobe without baring too much skin. There are plenty of jumpsuits that can fit in your conservative style. Think of "Sasha fierce" at the Grammy awards in her Osman black and white jumpsuit or even Elle Macpherson in her bright yellow Etro sexy conservative jumpsuit. This is a look that also comes in all shapes and sizes.
It can definitely cater to your conservatively sexy look. Our beauty and sexiness should not always be defined by our looks or what we choose to wear, but by our attitude and self-confidence regardless of what we put on. Remember that being is sexy is first and foremost a question of confidence.
Gwen Madiba | Elite.