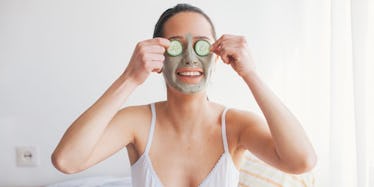 5 DIY Face Masks That Will Give You Clearer And Brighter Skin Before Summer
I am a Pinterest junkie.
I love pinning all of the homes I will never own, wedding dresses I will never wear and crafts I will always attempt to make, but will never turn out the way they look in the picture.
While surfing the beautiful site, I came across a lot of DIY face masks and thought, "Why haven't I thought to test these out before?"
There are a lot of great recipes for DIY face masks on Pinterest, but sometimes, it can be a little nerve-racking to think about making them.
For the past week, I've been making some of these recipes with simple ingredients that can be found in your own kitchen and testing them out.
Some turned out great and left my face feeling fabulous, while others made me curse the person who came up with the idea.
Here is what I have found out from testing out DIY face masks:
1. Coffee grounds and honey mask for puffy eyes
Instructions: Mix 1/4 cup of coffee grounds and 1 tablespoon of honey together and apply just under your eyes where you have dark circles and/or puffy eyes. Leave on for about 15 to 20 minutes.
Repeat process every day for a week, and then only when you feel it is needed.
Thoughts: While I smelled like a mixture of old coffee and an ashtray (so gross), it really does work!
It hasn't been significant, but I am definitely noticing a change. Will definitely be keeping this up!
2. Honey, baking soda and cinnamon for acne scars
Instructions: Mix 1 teaspoon of baking soda, 1/2 teaspoon of cinnamon powder and 1 tablespoon of honey together, and apply all over the affected area.
Leave on for about 15 minutes or as long as you can handle the stinging. (Yes, it will sting a little.) Repeat process twice a week.
Thoughts: I had a few moments where I felt like I was melting away like Robin Williams in "Mrs. Doubtfire" with this drippy mixture, but the scent is awesome.
While I haven't noticed that much of a significant change in a week, it definitely left my face glowing and feeling softer.
Also, I noticed that it helped suppress the oiliness on my face. I will definitely be keeping up with this.
3. Honey, baking soda, turmeric and water (or milk) to battle acne
Instructions: Mix 1 teaspoon baking soda, 1 teaspoon honey, 1/4 teaspoon turmeric and a dash of water (or milk) together and apply all over the affected area.
Leave on for about 15 minutes. Repeat process twice a week.
Thoughts: While I loved the idea of using turmeric, my face turned orange. I'm not talking a healthy tan or glow; I'm talking an Oompa Loompa.
My face did feel softer afterwards, but if it is at the risk of looking like I had just stepped out of Donald Trump's tanning bed, I am okay with not trying this one again.
4. Honey, ground oatmeal and lemon to remove facial hair
Instructions: Mix 1/2 teaspoon ground oatmeal and 1 tablespoon each of honey and lemon, and apply over the areas that would you like hair removed from.
Leave on for 15 minutes. Gently scrub away the mask, and repeat two to three times per week for three to four weeks.
Thoughts: The scent is great, but it is a little bit of a sticky mess.
I like the idea behind this, but after a week I haven't noticed any results. I am open to keeping up with this to see if something does change.
At least it didn't turn my face into the color of a fruit.
5. Honey and banana for brighter skin
Instructions: Mash 1/2 of a banana to mix with 1 1/2 teaspoons of honey, and apply to face.
Leave on for 20-30 minutes. Repeat twice a week.
Thoughts: While the scent is great, I was melting away to nothing. It is a soupy mess, and I also didn't really notice anything different.
I'm going to say save your bananas and time with this one.
Of course, everyone will have different results and different preferences. Go ahead and try these recipes out for yourself, or check out the ingredients in your own kitchen to see what you can come up with!
Just keep in mind, turmeric will turn you orange, honey is extremely sticky and while you think coffee is a great scent on its own, it will not be on your face.
Here's to hoping you find the facial results you are looking for.
This article was originally written by Kristen Buccigrossi for Unwritten.