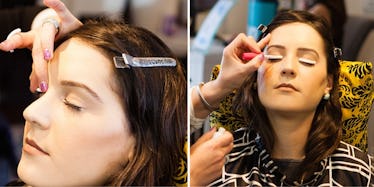 You Can Actually Get Your Eyelashes Semi-Permanently Dyed And Curled
Brit + Co
I got my eyelashes dyed and permed. I know, it sounds crazy.
I am an eyelash-obsessed beauty writer, and there's nothing I won't do to have thick, luscious lashes. Whether wearing a ton of mascara or using eyelash-curler hacks to make them insanely long, I am dedicated.
When I found out you can actually get lashes permed and dyed, I knew I had to try it out.
While the thought of having perfect eyelashes 24/7 thrilled me, the actual process freaked me out. I'm someone who doesn't do well when people get near my eyes (I've been known to pass out at eye doctor appointments).
I had about a million questions for Tracy, the owner and lead lash lady at Eye Candy San Francisco, where my transformative eyelash experiment would take place. After she put me 100 percent at ease, I was ready to do this.
This is what happened when I got my eyelashes permed and dyed.
First, Tracy measured my lashes to see what type of cotton rod she'd use.
The cotton rod creates curl and lift. If you use a rod that's too big or too small for your eyelash length, you could over-curl or be left with no visible change at all, so this step was key.
The rod was sticky, so my lashes adhered to it. I closed my eyes for what would be, in total, about 30 minutes.
Carefully, Tracy pulled each eyelash around the rod.
The rod was placed on top of my lid, right above my upper lash line. I did not like this part at all, honestly. But, after Tracy calmed me down and further explained in detail what she was doing, I adjusted to the brand new feeling on my eyelids.
After all the eyelashes were perfectly placed on the sticky rod, Tracy applied the wave gel, which is what creates the semi-permanent curl. I let the gel work its magic for about 10 minutes.
After my lashes were permed, it was time to dye them. The salon used a vegetable-based dye, which was a relief to hear because of the obvious sensitivity of the eye area. Again, I shut my eyes for this process. Tracy carefully applied the black dye to my lashes — she straight-up smothered them in this stuff — so there was no chance of me not being left with the inky lashes of my dreams.
The dyeing was more uncomfortable than the perming, but it was still tolerable (even for a wimp like me). After a few minutes of not feeling anything, I started to feel like I had a little shampoo in my eyes. After about 10 minutes of letting the color soak in, Tracy carefully washed it off.
My lashes looked incredible looked afterward.
My lashes, jet-black from root to tip, were noticeably bolder. They also looked like I'd just curled them with an eyelash curler and put on tons of mascara.
Tracy told me they actually start to look even better after a day or two when they "fluff out." She wasn't kidding. On day two, my lashes relaxed a bit and looked like fanned-out beauties. They even stayed curled after the shower.
If you're looking to lighten your makeup routine for spring, consider splurging on a salon service for your lashes. At $120, the procedure will save you the time and Sephora expense. I was a big fan of having my lashes permed and dyed, and recommend it to anyone who's after seriously perfect eyes.