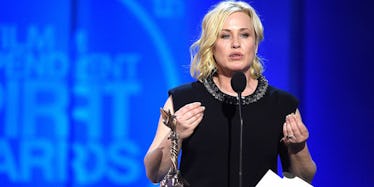 What Patricia Arquette Wants Young Women To Know About Their Paychecks
Getty Images
In 2015, right before Patricia Arquette won the Best Supporting Actress Academy Award for "Boyhood," she warned her boyfriend she was about to say something that would shock the world.
"I said, I might lose some jobs over this, I might not work anymore," she says at a roundtable interview supporting #ActuallySheCan, an organization dedicated to empowering Millennial women to fight for equal opportunities in the workplace.
In her now iconic speech, Arquette spoke about the gender pay gap, not only in Hollywood, but also in every industry around the world. American women on average earn 78 cents for every dollar a man makes, with even lower percentages for African American and Latina women. In the film industry, only seven percent of directors are female and actresses increasingly make less than their male counterparts for equally sized roles.
Shortly after Arquette's speech and the famous Sony hack, Jennifer Lawrence wrote a lengthy Lenny Letter post explaining how shocked she was to find out how much less she was being paid than "the lucky people with d*cks." Lawrence wasn't mad at the industry, she wrote, but at herself for not asking how much her male costars were making.
"When Jennifer Lawrence came out and talked about fair pay she got a big backlash for speaking up about it as if she should get less pay because she's a woman," Arquette explains. "It doesn't matter how many zeros are there, the point is she should have been paid the same as her male costar."
Arquette says she's proud to see 20-something women stand up for themselves. She came from a generation that was so overtly bias it motivated her to speak out against discrimination in her Oscars speech.
"I have lost some jobs from it," she admits. "Sometimes people are stupid about their bias and make it so clear, but I don't mind that. I'm in a position where I can make a difference."
Organizations like #ActuallySheCan are contributing to the fourth wave of feminism happening among young, outspoken women. Arquette says she's excited about being a female role model and wants to encourage young women to get angry about discrimination in the workplace.
"Women grow up being told we can be anything," Arquette says. "With shifts in culture, hopefully we can."
She has a point too, as 60 percent of Millennial women aren't asking for the salaries they deserve. So speak up, lady bosses.