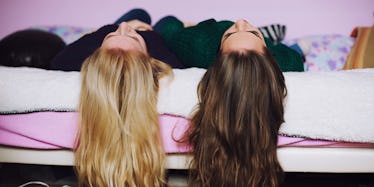 These 3 Easy Festival Hairstyles Will Get You Through Coachella And Beyond
Sure, festival fashion can be tricky, but there is one simple thing that can throw off your entire outfit: Your hair.
Instead of just trying to guess what's cool, we went straight to the raddest hairstylist we know, Kristen Shaw, the woman behind some of the best cuts in LA, to walk us through a few simple and fun festival hairstyles.
Kristen gave the best advice right out of the gate, saying,
A good haircut before goes a long way.
And make sure you always pack a little dry shampoo.
As Kristen notes, the wind and elements will be dry at most festivals. A twist toward the front of your forehead will give your go-to top-knot new shape and make it fun. She adds,
Or pull down a piece around your ear to your nape and braid it with your jewelry you've brought.
Next up, Kristen says,
Keep Bobby pins on hand and twist and tuck your hair to pin to a couple key places--the nape of the neck on left middle or right side. If you want to get creative, put pins in a fun arrangement on the top of your head to create interesting shape and hair jewelry, or to just keep those flyaways down.
If you're good with braids, Kristen suggests trying variations on texture and placement.
Try not to go with the standard. Pull apart your braids and use friction between both palms as you create more and more texture. If you like something tighter and more sleek, show off your face and wet your hair down and do two French braids. Add some lipstick and you will be so sun-kissed in the Coachella air.
And of course, if you are one of those lucky girls with beautiful, long, wavy hair, Kristen says, "let it go."
Put a little oil in it to start and all that dancing, braiding, and top-knots you'll do throughout the weekend will look even more amazing when you bring them down.
Now go forth and let your seriously stylish locks fly free.