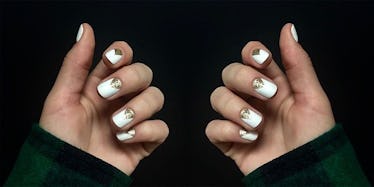 DIY This New York City Salon's Most Popular New Year's Eve Manicure (Photo)
New Year's Eve isn't about bottle-popping or slow dancing. It's not even about a new year, really.
It's about the glam.
Whether I finally decide to attempt cut-crease eyeshadow or spring for a blowout, it's the one day of the year when I can take as long as I'd like to get ready.
Given the party doesn't get going until at least 11:45, there's ample time to treat myself.
The night doesn't have to be about upending a bucket of glitter over my outfit, either.
These days, I'm into a minimalist punch of sparkle that says, "I'm an adult, but look how shiny my cuticles are in the light!"
I contacted Paintbox Studios, an ultra-chic Manhattan nail salon, to catch up on its most-requested design. It's called "Sugar & Spice" and is surprisingly easy to replicate.
Feeling artsy? It's time to DIY the look.
What you'll need: Orange stick Nail art brush or stencil Base coat White polish Gold polish Gold sparkly polish Top coat
Step one: Prep the nailbed and put down a base coat. Then, layer down two coats of opaque white polish and let each one dry.
Step two: Either free handing with a tiny nail art brush or relying on a stencil, draw a triangle outline in gold polish. It should start at the cuticle and hit the midpoint of the nail.
Step three: Fill in the shape and wait for it to dry.
Step four: Drop a dollop of glitter polish inside each gold triangle, spreading it to fit the shape with your orange stick. Let dry and add a layer of top coat.