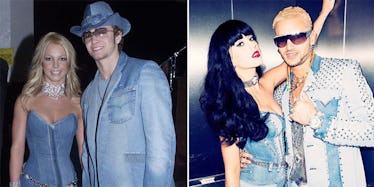 The '90s Denim-On-Denim Trend Is Making A Comeback, And We Don't Hate It
Reuters/Instagram
If you think back to your childhood days, you might remember denim having a serious moment during the '90s and early 2000s.
Denim dominated the runways and red carpets, and it was pretty much a known fact that you weren't stylish unless you rocked jean fabrics on the reg.
It seems like just yesterday Britney Spears forever changed the meaning of the Canadian tuxedo when she debuted a denim dress alongside Justin Timberlake's all-denim digs.
But if there's one thing we can learn from this denim-dripping dream team, it's that all good things must come to an end — even denim.
Yep, just like Brit and Justin's relationship, it didn't take long for this super famous fabric to rip apart and fade out of the spotlight.
I don't want to scare you or anything, but it's actually been 15 years since those blue jean babes committed that unforgettable denim-on-denim crime.
In fact, the whole denim look has been out of style for so long, it's now considered retro, which, of course, automatically makes it cool again.
A double denim #FlashbackFriday - @tyrabanks 1993, photo via http://t.co/u56UfLmRkx. pic.twitter.com/FiBSAbTkhY — 7 For All Mankind (@7FAM_EU) August 28, 2015
Denim has finally risen from the style grave, and this throwback trend is yet another thing that proves '90s fashion is back with a vengeance.
Without further ado, let's take a trip down memory lane and see how people are incorporating this old-school style back into their #OOTDs.
It's no secret that the '90s and early 2000s were all about denim ensembles.
It was an interesting fashion era when all of our favorite pop stars covered themselves in denim from head to toe...
...and blue jean dresses were regarded as a red carpet look fit for a queen.
If the disappearance of this trend has you feeling blue...
...you'll be glad to know this signature '90s style is making a serious comeback.
That's right, the days of denim have finally returned...
...and now, lots of fashionistas are finding ways to work this fabric back into their wardrobes.
Katy Perry and Riff Raff matched in a studded rendition of Brit and Justin's iconic outfits...
...and Beyoncé revisited this retro trend by rocking a denim romper.
We've seen Rihanna slay in blue jean boots...
...and strut her stuff in some denim ensembles that are bad as hell.
Plus, Kim Kardashian put a personal touch on this look and paired her denim with translucent shoes and exposed nips.
Miley Cyrus has proved the oversized denim jacket is, once again, a wardrobe staple...
...while Kylie Jenner showed Canadian tuxedos can be worn in any weather.
And Louisa Johnson served as living proof that destroyed denim looks fabulous AF on everyone.
It appears the denim-on-denim trend looks a lot better than it did the first time around, so now's the time to get in on the action.