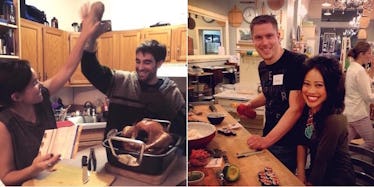 21 Couples Who Prove If You Cook Together, You Stay Together (Photos)
When it comes to bonding as a couple, you don't have to try tantric yoga or soul gazing. The answer is already in your kitchen.
Couples who cook together strengthen their bond by creating something they can enjoy with a bottle of wine at the end of a long day.
They must divvy up responsibilities, communicate and converse as they chop and slice in the kitchen.
It doesn't hurt if they also share the culinary adventure on social media. Instagram is chock-full of inspiration to get you and bae in the #CookingGoals mood.
Cooking together forces you to rely on each other's skills.
You'll discover each other's true strengths.
Learn about each other's cultures while creating new recipes together.
It requires your full attention, so put your phones away.
John Legend knows the importance of taking charge when it comes to dinner.
But, Chrissy Teigen will always one-up her man in the dessert department.
For serious couple points, book a cooking class on Valentine's Day.
Learning a new skill together will always be money well spent.
If you two are into #fitspo more than #foodporn, cook up some protein-based power food.
One person may have more experience.
But, it's important to split all responsibilities.
It's a time to bond over how silly you both look in aprons.
Just because you're busy chopping, doesn't mean you can't make time for a little PDA.
Hey, you can even do it shirtless.
Just remember, this process is supposed to be fun.
So, have a few drinks while you prep your meal.
Get a little messy.
Don't get bogged down with precise measurements and recipes, just enjoy your time together.
Congratulate each other on your amazing teamwork skills.
It's been a long couple of hours.
And now, you're ready to enjoy your feast.