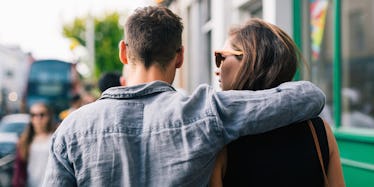 This Clothing Delivery Service Is The Perfect Treat For Shopaholics
Here's a fact that's cost me countless hours and paychecks: I love shopping. It's not a casual love affair, either; it's a committed, his-and-her's monogrammed towels type of relationship.
The thrill of finding a bargain buried among its full-priced fellows and walking away with a unique piece from a thrift store gives me an all-day adrenaline boost comparable to what winning the lottery must feel like.
For the sake of the barren desert also known as my wallet, however, I strictly regulate my habit. Whether it's denim jeans or scented candles, my budget is carefully planned out.
Well... for the most part. As Hannah Montana once sagely noted, "Nobody's perfect."
Several weeks ago, I had the cool opportunity to be one of the first customers in the (digital) line for a no-fee delivery shopping service called Lyon + Post, which promises an end to the days of long checkout lines and changing rooms.
Shoppers are invited to scroll through pages of current, ready-to-wear items from contemporary notable brands. It's like a department store on your laptop.
Queue up as many pieces as you'd like to try on, and four at a time will ship to you in a pristinely packaged box.
You have seven days to try them on, far from the fluorescent lights and cellulite vistas of actual changing rooms.
And the best part? You don't pay a dime unless you decide to keep an item or miss the mailing date.
It seemed apparent that immediately the biggest hurdle would be sizing.
My body is shaped in such a way that none of it fits cleanly into into one straight size, a problem many hourglass-shaped women share.
I ordered the toughest items to fit: Paige Denim's Jimmy Jimmy Skinny jeans, a striped Bec & Bridge tee dress, a pencil skirt by Raoul and a Reba ColorBlock Romper.
The box is, as expected, kind of mixed package.
[caption id="attachment_1043357" align="aligncenter" width="600"] Lyon and Post[/caption]
A little thrill went through my shopping-dependent body when the impeccably-designed box finally arrived.
If this post were solely about packaging, Lyon + Post would have it covered (with a beautiful label and carefully wrapped tissue paper).
As for what actually came inside, both the romper and the dress fit like they'd been tailored for me, but made from fabrics with some stretch.
When it came to the skirt and jeans, though, the sizing couldn't have been further off.
The denim, ordered in the same size as my worn-in Levis, was so large it could have been my "before" picture in a bad infomercial.
Seriously, I fit my whole leg-plus-arm in there with room to spare.
Admittedly, if I'd been desperate for a new wardrobe staple I would have brought out the measuring tape and noted my size a little more carefully.
It seems the only truly efficient way to buy an item through a delivery service is by ordering three to four sizes of the same item in each shipment.
Lyon + Post sold me on the experience, not just the products.
Following a model set forth by wildly successful delivery services like Birchbox and Ipsy, Lyon + Post delivers its customers a luxury experience.
When the sleek white box arrived at my door, I felt the way I imagine Paris Hilton must feel after a long day of being an heiress with unlimited funds.
Even though the items I ordered were a price tier above what I'd normally consider paying, Lyon + Post provided a relaxing shopping environment perfect for picking out bridesmaid dresses or something special.
To be sure, the service won't end the dimly-lit changing rooms of malls across America.
But for someone who enjoys the thrill of picking out beautiful items and often returns impulse buys, Lyon + Post is a treat worth trying.
Now, if you'll excuse me, I'm off to add to my queue.