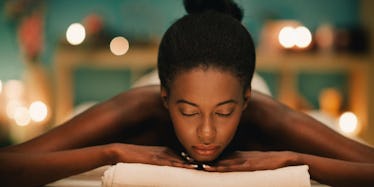 This Chemical Peel Will Get Rid Of Your Bacne Scars In Time For Swim Season
Acne is a sore subject for me.
Since starting to write about my skin issues, I've begun to accept the dark marks left behind by years of acne. But, I didn't realize how much self-consciousness I still harbor about my discolored skin until my editor suggested getting a back acne facial at Smooth Synergy Cosmedical Spa.
I remember all too well when cystic acne peppered my back and I was teased for not having flawless skin. Instead of consistently visiting my doctor, I accepted that my skin would never be Lupita-levels of perfect. I just use over-the-counter products to keep breakouts from going HAM. I also avoid making my spots the center of attention.
As you can imagine, I wasn't particularly jazzed about a stranger dissecting my scars. However, the spa promised to cleanse, exfoliate and steam my acne-prone skin as I enjoyed a light massage. What could be so bad about a spa treatment on a Tuesday?
I expected the spa to be brightly lit, but this place was angelic, like a waiting room for heaven. My esthetician Michele ushered me down a narrow hallway to a private back room. Inside, there was a desk, a sink and what looked to be a Transformer-sized version of a garment steamer.
When Michele requested to see my back, I pulled off my sweatshirt and sports bra instead of waiting for her to step out of the room and give me some privacy. Since she was about to witness what I discuss with virtually no one, standing before her naked was the least of my worries.
After she immediately determined a SkinMedica Vitalize Peel would trump a back facial. It's a three-step process that includes a prepping solution (isopropyl alcohol, water, acetone), a peeling solution packed with salicylic acid, and retinol, a key ingredient in accelerating cell turnover. Most patients peel like reptiles just a few days after the application.
I was down with whatever treatment Michele thought would actually yield noticeable results. Even though Samantha Jones' bright red face is seared into my memory forever, getting a peel is way less eventful than I imagined. The solutions were cold, but not nearly as startling as a stethoscope on your chest. From start to finish, the procedure took less than 15 minutes, the same amount of time it takes for a decent hour-long show to even start getting good.
My main concern was post-care: How could I avoid looking like a snake shedding skin, and would my back be healed by the time I want to frolic around in a bikini? Michele assured me my skin would be back to normal as long as I didn't sweat heavily, moisturized and didn't use any acne products with salicylic acid. Michele also slid me some samples of Smooth Synergy's light, medical-grade moisturizer and calming serum for any redness.
Now, you can't necessarily stop your body from sweating altogether, but I was specifically told to ditch my workouts for at least 48 hours. No exercise for two days? No problem.
Two days later, I haven't had any peeling. Besides a few breakouts, not much has changed. I was told it might take a second or third round for the Vitalize peel to really lessen my dark marks. However, I'm not so sure I'd keep going back for more. To me, shelling out almost $200 for a treatment that may not work seems counterproductive, especially for my budget. But, depending on the severity of your scars, it may be worthwhile.