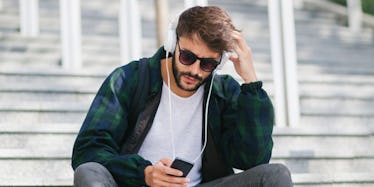 Science Says Guys With Brown Hair Get More Love On Dating Sites
There are many factors that can cause us to swipe left (or right) on a guy. His height. His job. All the photos of holding babies, puppies and tigers.
Let's add another one into the mix: hair.
Before you get swept up in staring at his face or his abs (shirtless mirror pics FTW), hair color is one of the first things you notice on a man -- and it plays a huge part in whether or not a girl will swipe left or right.
According to research by WhatsYourPrice.com, blonde is the least favored hair color on men. In fact, blonde men receive an average of three dates per month, compared to brown hair men who land 10, black hair with seven, and grey hair with six.
Yes, salt n'pepper men are faring better than their blonde counterparts. Grey is the new blonde, apparently. Men, be comforted by the fact that you won't have to run to the colorist at the first sign of white. The silver fox thing is alive and real.
Girls really are into the whole tall, dark and handsome look — guys with brown hair get the most attention on dating sites than any other hair color. Sorry, blondes, but you don't really have more fun.
While there are multiple studies that prove blonde women get approached more at clubs, get more right swipes and are generally luckier with dating, the "blondes have more fun" stereotype actually works against men.
Brandon Wade, founder of the What's Your Price dating site, explained, "Those who are taking their dating life seriously are probably steering away from this type of guy for fear that they are just looking for a summer fling."
Are blondes more likely to experience summertime sadness, too?
Of 145,000 men, brown-haired dudes had an average of 10 dates per month. That comes down to roughly 2-3 dates per week. Who has the time for that?
Additionally, according to a study published in Psychological Studies, chicks were much more likely to accept a slow dance from a brown-haired man than a blonde. Nope, sandy-haired fellas, it wasn't just something you said.
But don't worry, blondes, you don't have it that bad: Red-haired guys have the worst luck, with only 13.8 percent of women accepting slow dances from a ginger.
There's an added twist: If you're a man living in Los Angeles, you're more likely to get some action if you're — wait for it — bald. Guess chicks really do dig Walter White types?
Blondes (and redheads), don't stress too much. The data collected was collected over June and July when surfer douche-bros are at an all-time high. So maybe things will look better for you come sweater weather's cuffing season.