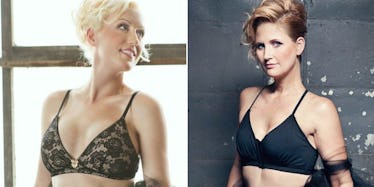 This Cancer Survivor Created A Stunning Lingerie Line For Other Survivors
For many, a cancer diagnosis is a serious derailment from life.
But for Dana Donofree, it was the beginning of a new journey — one that would change many women's lives along the way.
Donofree was just one day shy of 29 years old when she was diagnosed with infiltrative ductal carcinoma, a type of breast cancer, in 2010.
The next 12 months were spent in and out of hospitals.
Beating death had become her life.
She shares with Elite Daily,
I spent an entire year dedicated and focused on beating breast cancer. In and out of surgeries, in and out [of] chemo treatments, dealing with the side effects, and trying to navigate through this world that I knew nothing about.
Somewhere along the line, the treatment worked; she'd overcome cancer.
Donofree recalls feeling grateful, relieved to have conquered what she'd assumed was the "hard part."
But that feeling didn't last long.
She explains,
The part that no one prepares you for is this life after cancer, the 'new normal.' I struggle with even using these words in this context, because nothing you do feels or seems normal [after cancer].
The hardest part, Donofree remembers, was coming to terms with her body after the bilateral mastectomy.
None of her clothes or lingerie fit correctly anymore, and though she didn't need a bra, she wanted to wear one  —  she wanted to feel normal.
She recounts,
Cancer had taken so much away from me. I was not willing to give something up that made me feel confident and beautiful.
Upon sharing her frustrations with other survivors, she realized how common the problem was.
She didn't want to be, as she says, "sentenced to the life of sports bras and…. utilitarian beige bras."
With 10 years of fashion industry experience on her side, the Savannah College of Arts and Design graduate decided to do something about it.
And thus, AnaOno was born.
Named after the designer herself, the now year-old company designs and manufactures affordable lingerie specially for breast cancer survivors.
The slogan: Never Alone. 
Formulated without underwire, the specialized bras, which range in price from $48 to $58, are crafted from a unique, stretchy fabric designed to fit a range of breasts, both reconstructed and artificial.
Seams are strategically placed to avoid scar tissue and maximize comfort, and front closures allow for post-op wear and easy removal.
But most importantly, the bras are beautiful.
Whereas many bras designed for survivors are all function and no form, Donofree refused to sacrifice style in the name of comfort. The result: tailored, feminine pieces women can feel proud to show off.
And while they're designed with survivors in mind, all sorts of women have fallen in love with Donofree's designs  --  even those who've never had to suffer through a breast cancer diagnosis.
Empowering other women to find their confidence, Donofree insists, is why she does what she does.
Through AnaOno, the designer has built a community of strong, powerful, beautiful women.
All of her models are survivors; real women who, like Donofree, underwent mastectomies and emerged stronger than ever.
Recently, a fellow survivor thanked Donofree for AnaOno, and insisted being in a fashion show for the brand changed her life.
It was the first time, she said, she'd been able to feel confident since losing her breasts.
Donofree gushes,
To watch some of these transformations through a lens and experience alongside the path into finding a person that maybe you forgot about or didn't know existed is so rewarding and so completely inspirational. Slipping into that beautiful bra in the morning may just give you that little boost of confidence we have been missing since surgery, and that is what I celebrate. That is my mission.
Donofree's company has grown exponentially over the past year, quickly expanding to include a range of complementary undergarments and lounge apparel.
The inspirational designer doesn't just support your physical attributes. She also donates 10 percent of sales on select styles to charities including Jill's Wish and Living Beyond Breast Cancer. 
"My dreams are big," she says, ticking off a list of products she hopes to add to her collection, adding,
I am excited to round out the assortment and bring even more options to the market and dress these beautiful, amazing women after surgery and beyond so they can feel good about themselves… [But] my biggest goal of them all is to dress women around the world. Women everywhere should [have] the option to [feel beautiful again] .
Dana Donofree's "new normal" seems to be a pretty great fit.