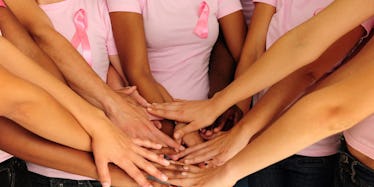 #ShowYourStrap: Show Off Your Bra For Breast Cancer Awareness Month
This month, Instagram will be home to pics of autumn leaves and misspelled names on Starbucks cups. However, don't overlook posting for a good cause, as well. Thanks to the UK's largest breast cancer charity Breast Cancer Now, you can even show some skin in support of its #ShowYourStrap campaign.
Celebrities and everyday women alike are taking to Facebook, Twitter and IG to accept a very un-annoying selfie challenge that raises funds for breast cancer research and encourages regular breast exams.
Normally we'd just sift through pink-hued products to celebrate Breast Cancer Awareness Month, but getting involved and spreading the word about breast health are more effective.
Here's the scoop on the social trend:
Model Rosie Huntington-Whiteley kicked off the social media craze when she teamed up with British retailer, Marks & Spencer, to design a 19-piece collection, which includes a post-surgery bra.
The promotional campaign for the exclusive lingerie line features women who have either survived breast cancer or have lost a loved one to the disease.
Huntington-Whiteley says the line was created to appeal to all women with "a variety of skin tones."
Ten percent of each sale will go to Breast Cancer Now and the fight against breast cancer.
Women who post a #ShowYourStrap selfie are also encouraged to donate roughly $5.
To donate, text SUPPORT to 70003.
M&S hopes to raise $19 million over the next five years with its viral campaign.
Proceeds will fund Breast Cancer Now's scientists, who are discovering a way to calculate an individual woman's risk of developing cancer.
The assessment tool will better inform women of precautions to take against breast cancer based on their personal risk.
According to BreastCancer.org, a woman's risk of breast cancer approximately doubles if she has a first-degree relative (mother, sister, daughter) who has been diagnosed with breast cancer.
Over 85 percent of women who develop breast cancer do not have a family member diagnosed with it.
What's more, about 1 in 8 U.S. women (about 12 percent) will develop invasive breast cancer over the course of her lifetime, and breast cancer is the most common cancer in the U.K.
White women are slightly more likely to develop breast cancer than African-American women.
However, in women under 45, breast cancer is more common in African-American women than white women.
So #ShowYourStrap to blast your support and donate to a good cause!
Then, nominate your friends to show off their bra straps to further spread awareness.
With the help of #ShowYourStrap, Breast Cancer Now hopes to prevent 9,000 cases of breast cancer by 2025.