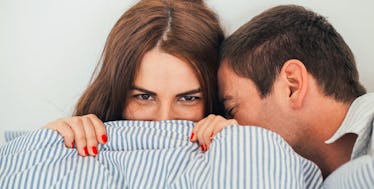 There Are Now Booty-Boosting Jeans To Make Your Butt 2 Inches Bigger (Photos)
Stocksy
It's no secret the past year has been the year of the big butt.
For those with well-developed derrieres, this is great news: Finally, we can fearlessly flaunt our curves à la Kim Kardashian and co.
But for those ladies who lack the all-important trunk junk, all this booty talk can be a serious downer. There's no good way to fake a bountiful butt.
Until now.
Thanks to Jasper Conran, flat-bottomed babes can fake a cushy tush with the designer's new booty-boosting jeans.
The aptly named Shape Enhancing Jeans can add up to 2 extra inches to a lady's behind without padding.
How does it work?
According to Conran, it amplifies the tush through a combination of expert, butt-enhancing tailoring, strategically layered thick denim and a supposedly "lifting" cut.
Stomach-flattening panels in the front of the jeans, which are available in sizes 8 through 18, help to further create that coveted hourglass shape.
It may sound dubious, but women love them: Though the jeans were only introduced to the European market this week, sales have already exceeded expectations.
Lizzie Singleton, spokesperson of chain retailer Debenhams, attributes the product's success to celebrity influence.
She said,
Pictures of curvy famous women, from Kim Kardashian and Nicki Minaj, to Pippa Middleton and Carol Voderman, have helped women with prominent rears realize they have a gorgeous fashionable asset to emphasize, rather than minimize. Of course, it's a little more difficult for women with a slimmer, straight up and down silhouette…. but now, buying a pair of shaping jeans can offer a wonderful, instant booty boost.
The jeans are available in stores throughout the UK and via Debenhams website.
Check out the impressive before-and-after shots below.
Before:
After:
Before:
After:
Citations: Jasper Conran Shape Enhancing Jeans Promise To Enlarge Your Rear By Two Inches (Daily Mail UK)