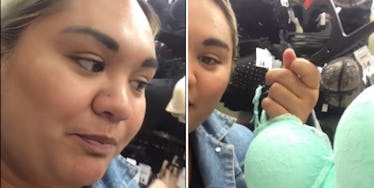 Blogger Goes On Perfect Rant About All Of The 'Ugly' Bras For Women With Big Boobs
YouTube
Having big boobs isn't all it's cracked up to be, according to blogger Chardé Heremaia.
The New Zealander, who wears a cup size FF, was shopping at her local Kmart when she discovered the affordable retailer didn't even carry her bra size.
Frustrated at the lack of options for big-busted ladies, Heremaia filmed a video, "Bra Companies — This One Is For You," to air her grievances once and for all.
The video has been seen more than half a million times on Facebook alone, with hundreds of women flocking to Heremaia's defense to share their own stories of full-chested frustration.
The video has officially become a virtual call to arms: World, it's time we give big-breasted women the beautiful bras they deserve.
Watch the video up top.
Citations: You Have to Watch This Blogger's Epic Rant About the Lack of Bras for Busty Women (Cosmopolitan)