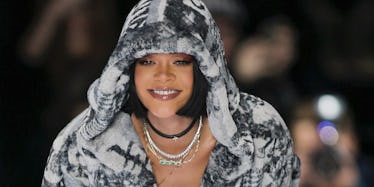 8 Fierce, Powerful Songs Guaranteed To Get You Through A Stressful Work Day
REUTERS/Eduardo Munoz
For me, music is life.
My many iTunes playlists are perfectly curated to carry me through any crappy day. I queue up Tom Misch's "Memory" when I want to quiet my thoughts. When a bad date gets me down, Brandy's "Never Say Never" album is my fool-proof breakup cure.
A while back, I was pretty stressed out at work and found music to be the most soothing remedy. When I feel bogged down by overwhelming responsibilities or a hectic schedule, I hide away in deep cuts.
It's a proven fact that music you personally find relaxing can reduce stress by slowing your heart rate and, in turn, decrease stress hormones. So, whether you prefer super upbeat tunes or slow melodies, flip on a few good vibes to get you through the day.
When you want to flip your sh*t but can't, Rihanna wilds out for you.
Play: "FourFiveSeconds"
The weight of stress is exhausting. The minute anxiety seeps in, you might find yourself dangerously close to quitting or yelling at your work BFF. Instead of lashing out, turn on Rihanna (and her squeaky ad-libs) and leave all your worries on the track.
When you desperately need a productive power hour, Angel Haze keeps you focused.
Play: "Werkin' Girls"
When stress threatens to ruin your day, focus on the money. It's one of the main reasons you're putting in work after all, isn't it? Maybe you're saving up for a new apartment or desperately trying to stay on budget. Either way, don't let unwanted stress shake you away from your financial goal.
When overwhelming stress hinders your work, Britney Spears reminds you to go hard.
Play: "Work B*tch"
You want to live fancy? Well, you gotta work, as Britney states so matter-of-factly on this track.
Some days will suck because, well, that's life. Still, that's no reason to throw away your good work ethic. This pop song reaffirms that working despite stressful bullsh*t reaps luxurious results. What bigger incentive do you need to leave your stress behind?
When you want to wallow in a sh*tty mood, Monica understands.
Play: "Don't Take It Personal (Just One Of Dem Days)
Don't share your anxious vibes with your office mates. Then again, after you take inventory of the day's heavy work load, you'll prob want to flow through the day solo anyway.
Monica's R&B groove will adjust your mood and stop you from feeling guilty about being antisocial all day.
When you're fighting just to make it to 5 pm, Santigold has the anthem.
Play: "Disparate Youth"
Santigold's voice is badass, fueled by heavy drums and determination. No doubt this record will help you push pass the bad energy and finish the day strong.
When you need a jolt of fun, let Beyoncé rev you up.
Play: "Yoncé"
There's no mood Beyoncé can't solve, especially stress.
Around lunch time, take a mental break and listen to a badass cut from Queen Bey. This 2-minute record is hard-hitting and fun, as well as a much-needed reminder stress always passes.
When you're unsure whether or not you should just quit, Erykah Badu relates.
Play: "Didn't Cha Know"
Some stress is super discouraging, making you question everything. Like, did you make a wrong career choice? Badu might not have the answers, but she sure as hell sings you through the pain.
Over mellow production, Erykah's soft vocals remind you it's OK to stumble. Allow her musical encouragement to take you away from all your worries.
When you're nostalgic for simpler, carefree times, the Spice Girls assist.
Play: "Wannabe"
Well before bills and business meetings, there were the Spice Girls and all their platform-shoed glory. Press play on this breezy tune to catapult yourself back to when your only stress was picking which Spice Girl to embody. Ah, the good life.
Every work day has its fair amount of stressors, but when stress bubbles up, press play on any of these chart-toppers to melt your troubles away.