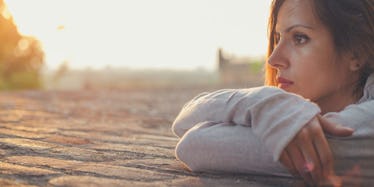 The Best Trends For Winter Right Now
Stocksy
As women, we know there's a lot out there. The Internet has made it almost impossible to surf the web without spending money. With ad placements everywhere tracking exactly what you like and browsing on a daily basis, it can become difficult to weed through the junk and find what's really good out there, worthy of your hard-earned cash.
Now that you're making money, you deserve to spend some of it. We know that it's burning a hole in your pocket as you casually stroll past the windows of Bergdorf's -- but you're not there yet, and spending an outrageous amount of money on luxury-goods is only going to get you in trouble.
We've decided to save you the agony of buying just another trend that's going to be out in two-days and have trolled the Internet for you to find exactly what's hot, and going to stay hot. We're not saying we're fashionistas, but we know a good coat, scarf, shoe, or wallet when we see one. So just for our readers, we've come up with a list of five amazing brands and products that are worth your attention and your cash.
The sad truth about winter in many cities is that leather just doesn't cut it. How many times have you convinced yourself your leather jacket would be warm enough, only to spend your night miserably shivering in line outside a bar? You have to admit, it's pretty hard to keep a good mood with chattering teeth and goose-bumped skin.
As with most girls, I'm hard pressed to forgo my favorite styles for something more practical, but being prepared for winter doesn't have to entail bundling in bulky and obtrusive layers. BB Dakota's Jack line features some sleek looks that not only adequately insulate your body, but also enhance your outfit rather than swallowing up your style in a look that should be reserved for the Michelin Man.
Our favorite from their new holiday line? The Wyanet Coat. Lined to ensure maximum protection from the chilly air with a cozy hood to nestle into, this jacket is comfortable, effective and cool. The trendy pattern and flattering fit make transitioning to any event, night or day, seamless.
Don't worry about stashing the jacket once inside somewhere, either, because the Wyanet Coat is lightweight and as easy to tote through a club as your (now) inadequate leather jacket.
The best part is that somehow this collection is entirely in the Gen-Y price range. Visit the BB Dakota site to see more from Jack and the new holiday 2013 line.
You might have heard of Make Believe Clothing Co., but if you haven't been keeping up, they've just put out a new line called Forever Onward. The T-shirts have aesthetically pleasing designs while centering around light optimism.
When was the last time your wardrobe simultaneously enhanced your style and motivated you in daily life? Probably never considering that's a rare juxtaposition few companies even strive to embody. The line's overall theme reminds us of sunny days, while balancing perfect simplicity with a new look.
What we're wearing right now? The Floral Flag Scoop. With the flower-print, it's easy to revel in the Californian roots of the company, and there's definitely no harm in brightening up the dreary New York winter scene with an unostentatious floral fix. Although cheery, the colors are light and muted in a vintage-feel so as to remain the perfect amount of spring for even the barren months.
Make sure to check out their site to see all their designs from both the original Make Believe and the newer Forever Onward lines, which manage to incorporate the laid-back vibes, classic trendiness, and picturesque scenery California is known for.
You're only as good as your best wallet, right? As you start making more money, it's important to make smart investments that help organize that money. With more credit cards, metro cards and business cards, there's a large need for a wallet that can neatly and comfortably hold everything. There's also something about the look of a sophisticated wallet.
They say that perception is half the game and with a sleek, sophisticated wallet, people might just start taking you seriously...even if you're only pulling out some crumpled bills.
Made with genuine leather, this wallet from Punkom is the real deal. With two compartments and a one zipper pocket, it will actually be able to hold all those "buy nine get the tenth free" cards. But the best feature is, it's big enough to hold an iPhone and headphones. Bet you never thought of it that way?
Before you pull out those winter boots that are going to be the only thing anyone sees you in this winter, try mixing it up a bit. This new flat by Restricted Shoes is the most stylish and innovative design we've seen in the flat community.
As a fan of anything European, these shoes scream sophisticated Parisian, or maybe a little Dutch? Whatever the inspiration, they are a fabulous staple for your closet, and definitely be a statement piece wherever you go.
The best part about the shoes is they are not going to break the bank. At only $49, you can't beat the quality, style and individuality that come with a shoe like this. As long as it's not snowing, they are ideal for winter because they look even cuter with a white sock underneath. Who said you can't wear socks and flats?
Shop Restricted Shoes here.
Every woman needs a good infinity scarf. While it may seem like you can get one anywhere, finding one you really love can become a daunting task. There's something so cozy yet stylish about a good infinity scarf, making the quest an important and lifelong journey.
However, the search is over. We have found the most amazing collection of handmade scarves from LIX PERLE. They are the warmest, coziest and all around best looking scarves on the market.
These days, when everything is made cheaply and hurriedly in South East Asia or any other sweatshop around the world, it becomes a luxury to adorn anything handmade. But once you've had something handmade, you just can't go back.
The difference is in the quality. These scarves are the best quality out there and will most definitely hold up through many long winters to come. It also just feels good to know that your stylish scarf wasn't made by the blood sweat and tears of an underpaid child.
Shop Lix's store here.
Top Photo Courtesy Of: Tumblr