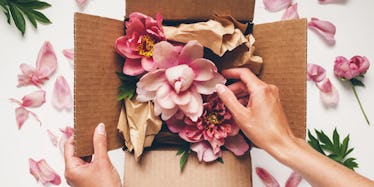 5 Budget-Friendly Subscription Boxes To Try That Aren't Birchbox And Ipsy
Kelly Knox
When summer rolls in, I feel it's time for an upgrade. I'm constantly copping new lip shades or a pair of denim shorts, but I tend to stick to the same old brands and styles.
This summer, though, I want to sign up for a few new subscription boxes to mix up my options and find new beauty faves. Affordable subscriptions boxes and monthly memberships provide high-value goods for a reasonable price, helping curb impulse spending. Plus, they're delivered right to my door, which means I can try a bunch of new moisturizers without overspending at Sephora.
So, I did a little digging to find out which boxes are best to upgrade my summer style and beauty look.
If you wear black every day, try Le Tote.
Most days, I prefer the dark style of Wednesday Addams, but summer calls the brightest, boldest colors to the forefront of my wardrobe.
Le Tote offers three articles of clothing and two accessories for $59 per month in a range of styles and prints. Just think Netflix for clothes. Once you get a few wears, send them back and new choices will be sent to your door.
Considering I probably spend more than $60 on a single summer dress at Topshop, I'd say this is the most money-friendly way to spruce up your summer closet.
If you need more workout gear, try Fabletics.
I'm still drooling over Ivy Park, but there are a bunch of other affordable athleisure brands on the block. Case in point: Fabletics.
This Kate Hudson-cosigned brand is personalized to fit your style. Sports bras and leggings start at $49.95 ($25 for VIP members), and you'll get the option to order or opt out every month.
I've found signing up to this membership-based fashion brand makes it easier to wear yoga pants to work every day. Also, I'm all about staying stylish during boxing classes, so Fabletics fitness trends seem like the perfect seasonal choice.
If you want to save more money on makeup, try Target Beauty Box.
Leaving Target without spending $75 is a great feat for me. This summer, though, I'd much rather curb my overspending by trying out the company's monthly beauty box.
Last month, Target offered toiletries valued over $100 for only $7, including fan-favorite Simple Cleansing Facial Wipes and Pantene Airspray Hairspray. Let's be honest, you couldn't get that kind of deal unless you DIY-d your entire beauty routine.
Subscribing for this box is a little tricky, though. Keep your eyes on the beauty box page in order to cop the goods before they sell out each month.
Though beauty brands are expanding their shades, it's still tough for women of color to find products that cater to their skin tones.
Thankfully, ESSENCE magazine's newly curated BeautyBox caters to a diverse range of complexions with brown girl-approved products like IMAN and Black Opal. The brand also stuffs each $15 box with natural hair care and beauty tips.
I, for one, barely even knew which shade to use for color correcting, so having all my black girl needs in one box makes it easier for me to slay all summer '16.
If you want better summer skin, try Teabox.
There are endless tea blends, each with its own set of skincare benefits.
For instance, chamomile tea has anti-inflammatory properties that help treat skin irritations like acne. A cup of chamomile also promotes better sleep, which is a proven way to achieve healthier skin. Additionally, tea can double as a topical skin remedy.
For that reason, Teabox is the answer to all your seasonal woes.
Once you take a quiz regarding your tastes, Teabox assembles a package of teas derived from across the globe. Their various collections range from organic to seasonal, and they also provide speciality teas from regions like Nepal.
For $40, you receive enough tea to make 120-150 cups. Drink up!