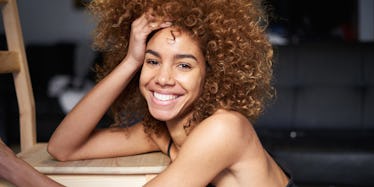 What Happens When You Switch To DIY Beauty Products For 5 Days Straight
Some women would have a Kim Kardashian-level meltdown if they ditched their favorite body lotion or Lancome BB cream for five days. Then again, they're most likely not minimalists like me.
I keep my beauty simple, from my everyday makeup (Maybelline mascara and Stila eyeliner) to my three-product natural hair regimen (coconut oil, hair mask, leave-in conditioner).
Because pimples are my skin's BFF, I don't experiment with trendy products. Commercial beauty products are pretty bad for us, anyway. They contain a heap of harmful chemicals, such as cancer-causing carbon black and formaldehyde, making it easier for me to stay away from most items in Duane Reade.
Don't get me wrong, though, my beauty options aren't all organic. My charcoal body soap is only 98 percent natural, and I swear by store-bought deodorant to keep BO at bay.
Lately, though, I've been toying around with the idea of taking an entirely natural, DIY approach to hair and skincare. I challenged myself to use all natural toothpaste, face wash, hair conditioner and lotion for five full days.
I felt like an extra from "Little House on the Prairie," but the results were interesting.
DIY toothpaste made me gag, but it noticeably brightened my teeth.
Scrambling to find an alternative to my Colgate Optic White toothpaste, I looked no further than a one-pound box of the Arm & Hammer baking soda. My mom and a few friends swear by the teeth-whitening powder, so I trusted it to brighten my tea-stained teeth.
First, I coated my toothbrush with coconut oil, which kills bad bacteria and prevents bad breath. Then, I sprinkled the powder on top and began brushing. Within seconds, the bitter flavor had me gagging hard enough to make my eyes water.
Though it took me a few tries, I finally cleaned my teeth and tongue. By Friday, the taste became a lot more bearable, my teeth felt cleaner and noticeably whiter for a faithful dark tea-drinker like me.
I'd put my DIY toothpaste up against any whitening strips, considering a jar of coconut oil can last for months and baking soda runs about $1.50 per pound.
An oil-based face cleanser helped keep my period acne at bay.
I freaked a bit over changing my skin regimen again, given my acne-prone skin. But, I'd already committed to finding a light, moisturizing concoction.
A friend had suggested oil cleansing to me before, but I'd rejected the idea that oil could help my already-greasy skin. When I finally did research, I realized oil doesn't cause acne. In fact, oil helps extract impurities from your skin and dissolves dirt and bacteria. It also keeps your face from overcompensating in oil production, causing more breakouts.
I had grapeseed oil and Jamaican castor oil sitting in a pile of pantry staples I rarely use, so I reached for them. Both oils contain antioxidants and anti-inflammatory properties that help stop acne. Also, they're gentle on skin, helping to moisturize and heal scars.
Because castor oil is thick, it needs to be diluted. I mixed three parts grapeseed oil and one part castor oil before applying it to my skin. Using a cotton ball, I massaged the face wash gently onto my face, then I let the oil set for 30 seconds.
Afterwards, I gently rinsed my face using a washcloth and warm water. After five days of using that routine day and night, I'm impressed with the results. My skin is much more moisturized and there are no signs of any period breakouts. This is about that time when Aunt Flo starts causing acne mayhem, so I'm thrilled.
It's too early to tell if this concoction will reduce my dark marks. Let's just say I'm keeping this DIY face wash around a little longer to see.
My body lotion stayed tried and true.
I already use shea butter daily. If my skin is particularly dry, like during the winter months, I'll add a touch of baby oil to the mix.
Shea butter is present in quite a few products these days, and with good reason. Its benefits include relieving dry skin, healing old scars from your childhood and even soothing post-shave irritation.
The most reliable hair conditioner was one-ingredient only.
In the last few months, my hair's been on the road to recovery after a bad dye job ruined it. My twice-weekly deep conditioning routine (every Wednesday and Saturday) is finally reviving my mane, so leaving my Moroccanoil hair mask behind sent me into a bit of a panic.
I don't shampoo my hair, so finding a natural deep conditioner that would moisturize and cleanse my hair without stripping it of its natural oils was my primary concern. I landed on extra virgin olive oil, which not only cleanses hair by cutting down dirt buildup but also penetrates strands to deeply moisturize.
So, Wednesday morning, I drenched my mane in EVOO and put on a shower cap. After letting the oil set for about 30 minutes, I rinsed and styled my hair.
All in all, this experiment was a breeze and relatively eye-opening. Zeroing in on natural products allowed me to pay closer attention to what I was putting on my body. I was immediately more conscious of how much I spend on my everyday routine.