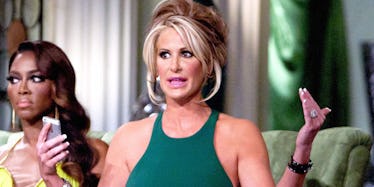 12 Amazing Reality TV Shows You Should Watch Based On Your Personality
Bravo
We're all obsessed with watching other people's lives unfold.
We are all really just voyeurs, happily minding other people's business and pretending we aren't.
Honestly, if I'm not cracking open a book or heading to meet friends, I'm most likely live-tweeting "Married At First Sight" or watching reruns of "Chopped" just to pass the time.
Still, there are levels to our love for reality TV.
The host of wacky characters you subscribe to watching weekly says a lot about your personality.
For the girl who always wanted to be b*tchy but never had the balls.
These women can't hold onto their drinks long enough to actually resolve their issues. Still, as nutty as it is to watch women fuss over nonsense, it is entertaining.
Some segments include their business ventures and bratty children, but most viewers just tune in to see who's talking sh*t.
Instead of reaching for Us Weekly or OK! magazine in the checkout line, turn to Bravo and enjoy.
For the girl who loves ratchet sh*t.
Watch: "Love And Hip-Hop"
VH1 is where all artists go to revive their careers.
Sometimes it works (Stevie J) and other times it's a major fail (Ray J).
Like most reality shows, however, this high-rated TV spot is basically just a hip-hop soap opera with less appeal than "Empire."
If you like bad music with a few love triangles sprinkled in, tune in every Monday.
For the girl who obsessively flips through Bumble and bride magazines.
We've all tried out Tinder, Bumble and other dating apps that don't quite find your perfect match.
A lot of us just want to skip awkward first dates and have experts pair us with the one.
While you're waiting for your soulmate, you can witness these perfect strangers take the plunge first.
For the girl who constantly complains about losing three pounds.
Watch: "The Biggest Loser"
Watching someone attempt to shed over 60 pounds puts your fitness goals into perspective.
Do you long to fit into your summer skinnies but can't stop stuffing your face with Oreos?
Take some tips from the shows fitness gurus and remember to push your body to the limit.
For the girl who sings Kelly Clarkson's "A Moment Like This" for karaoke.
Watch: "American Idol"
The best part of AI is its auditions.
However, once the finalists are selected, it's mostly good performances and witty banter from the judges, which make for nightly enjoyment.
Sorry if you had an hopes of joining the show, though. AI's final season (finally!) premiered January 6.
For the middle child who needs all the attention from her family.
Look, the Kardashians don't really need a TV show for you to know their every move.
Thankfully, having the whole family (sorry, Rob) in one living room is still a treat for diehard fans.
For the girl who can barely boil an egg correctly.
Watch: "Chopped"
It's no secret you'd rather whip up a tuna sandwich than do anything with an eggplant (besides send the emoji).
However, this show allows you live vicariously through all the chefs brave enough to put their skills through a pressure cooker.
For the girl who still has four DIY home projects to finish.
Watch: "Flipping Out" or "Million Dollar Listing"
At first, looking at all these beautiful homes will make you feel your life sucks.
Then, your inner Martha Stewart meets HGTV will kick in and you'll want to turn your tiny studio apartment into a home.
Seriously, what more motivation do you need to install those bike hooks?
For the girl who still wears Juicy Couture velour suits and big hoop earrings.
Sometimes what's cool right now just isn't your vibe.
Even though this "The Real World"-style show is now defunct, it still reigns as a classic in entertaining television.
Plus, one glance at Snookie's beehive and you'll be reminded instantly of your wild college spring breaks.
What's better than the good ol' days?
For the girl who dates metrosexual models.
Watch: "Vanderpump Rules" or "The Hills"
You can take a peek into Hollywood without having to actually step foot on the Walk of Fame.
Whether you prefer Kristin Cavallari's bad girl persona or Kristen Doute's dramatic breakdowns, you'll get a taste of what it's like in the City of Angels.