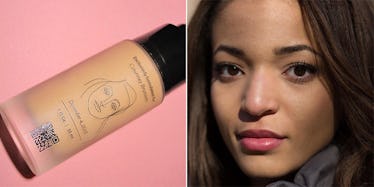 This Magical App Made Personalized Foundation For My Hard-To-Match Skin
Without the Internet and convenience of at-home delivery, I would wear one outfit every day like SpongeBob Squarepants and own one crusty, expired lipstick.
I hate shopping, which is an unexpected statement from someone who has spent the past four years working in the fashion industry. But, I hate it nonetheless. Having an introverted personality doesn't help -- bustling stores housing infinite inventory are over-stimulating and exhaust me before I can even find what I'm looking for.
Sales associates are the worst, because they follow you around and peer pressure you into buying a million things you don't need. No, Bath & Body Works, I do not want to buy an extra hand cream to get four thousand more for free. Or, they earnestly try to offer recommendations that are completely off, wrong, bad, horrible and ew.
This is the case with foundation, which is arguably the most important item of makeup needed to make you look hot and perfect. I mean, they call it "base" for a reason. Typically, drug store foundations limit your options to shades of pink or ashy dark brown, which leaves everyone in the middle of that spectrum out of luck -- awesome.
As a woman of color (a yellow-toned light brown, veering on jaundice during the winter), I struggle with finding a foundation that is not only the right shade, but also the right texture and formula for my skin.
It doesn't matter how accurate Sephora's Pantone Color IQ system is, because you still select the closest matching foundation to your real skin color. It doesn't always work -- trust me, I have the return receipts to prove it -- and that sh*t is too expensive for trial and error.
So, I stopped doing that.
Instead, I began using MATCHCo, a custom-blending foundation service with an accompanying app that uses your iPhone camera and flash to analyze your skin tone and create the perfect shade in less than two minutes. For real, I matched my foundation while watching "Love & Hip Hop," and never left my couch. It's mad easy.
I was pretty skeptical of my iPhone camera's ability to accurately detect my skin tone in incandescent lighting, but it actually worked! The MATCHCo app first instructs you to calibrate your phone camera by tapping its focus over a sheet of white paper. Then, with the flash shining, you continue to tap your camera onto your wrists, forehead and cheeks.
Within the week, my foundation was delivered to my door. It was the perfect tone to blend into my face and neck (no foundation mask here).
I'm seriously over-the-moon excited about this discovery, and had to spread the brown-skin gospel because there is finally hope for us.
Anyone of any hue and undertone can obviously create their perfect match, but I think women of color have the biggest need for this service, considering how our melanin goes buckwild seasonally. I personally shift through an array of shades throughout each calendar year (thanks, sun), so I plan on creating a new match as soon as summer hits.
Wait, before we talk about the formula, can we take a minute to look at this pretty ass bottle?
Your name, an adorable little face sketch and special QR barcode housing your foundation shade information (in case you want to repurchase) are on the back of the frosted glass bottle.
I'm a big fan of the pump, which allows for easy and sanitary application. Either your fingers or a damp Beauty Blender will help this foundation melt into the skin beautifully.
After setting with translucent powder, I rarely reach for oil-blotting sheets throughout the day. MATCHCo's hydrating formula is like a highly-pigmented tinted moisturizer, without being gross and oily.
Smoothing, silky, yummy sexiness that doesn't even need a primer. Somehow, this formula provides enough coverage for night, but is virtually invisible in daylight. What kind of beauty voodoo is this?
Even though I could spiral into a YouTube makeup tutorial K-hole until my retinas imploded (yes, I love beauty that much), the idea of sitting at a makeup counter and having someone touch my face makes me want to hide under the bed. I'll stick to creating the perfect foundation from my apartment, ideally from bed while eating snacks.
You can download MATCHCo free from the Apple App Store to get started. Then, make your sh*t and prepare to look hot. Y'all owe me for this one.