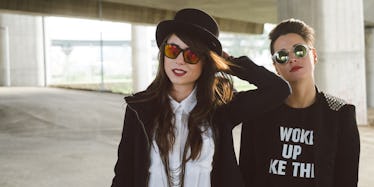 4 Unlikely Foods To Help You Eat Your Way To Healthy Hair
Stocksy
My hair is the consistency of straw. I don't dye it, I rarely blow-dry and I leave my conditioner in for exorbitant amounts of time -- yet still, my hair looks a lot like Mufasa's mane from "The Lion King."
After testing countless products, I got to thinking, what can I do to improve the strength and softness of my hair outside of my normal routine?
Your hair needs essential vitamins and antioxidants to be healthy, all of which can be found in all the usual suspects (avocado, coconut oil and olive oil). These are the ingredients beauty mags have been pushing on us since the dawn of DIY hair care.
But my question is: Can you change your actual diet to turn your locks from lame to luscious?
I'm sick of mashing up avocado-honey masks and rinsing mayo from my hair and doing all this extra work. What can I eat instead of apply?
As it turns out, there are tons of unconventional foods chock full of healthy-hair essentials (like vitamin C and biotin). These hidden, secret hair hacks are jam-packed with goodies to give your mane a complete overhaul.
And the best part? You won't ever have to spritz or spray a strand.
We know -- it sounds way too simple -- but here's how to eat your way to healthy hair.
Stop skipping breakfast!
Picture this: It's 8:15 in the morning and you were supposed to be out the door and on your way to the office 20 minutes ago. But skipping breakfast -- and opting for an apple instead of those fluffy, protein- and biotin-filled eggs -- is hurting more than just your morning productivity.
The benefits: Eggs are a great source of protein -- and you need tons of protein if you want healthy skin and nails. One egg contains about 6 grams of protein (about 11 percent of your daily intake). According to beauty expert Sarah-Jane Beatty of Sarah-Jane Make Up Artistry, eggs are essential for healthy hair.
As if finding an excuse to order another round of Eggs Benedict wasn't enough, the fatty acids found in egg yolks helps make your hair stronger, shinier and even prevents split ends.
The science behind it:As Huffington Post point out, B-complex vitamins like biotin, niacin and cobalamin help to restore thickness and shine to dull hair.
Your hair and nails are comprised mostly of protein, so you need lots in your diet to make sure you're doing the most for your stellar strands.
As the doctors at WebMd note, 90 percent of your hair is in the growing phase, and it lasts two to three years. If you don't give your locks enough protein-loaded love, they'll enter "resting phase."
Pro tip: Egg yolks are super rich in fatty acids so they make for stellar hair masks. If you want to give one a whirl, try this egg-based recipe from All Women Stalk.
Sex isn't the only way to get a good glow...
OK, OK, we won't disagree: There's nothing like a healthy, just-loved sex glow. But if you don't have a few minutes to spare for a quickie, stock up on pumpkin seeds instead. (Yep, pumpkin seeds.)
The benefits: These little seeds are loaded with vitamin E. As mentioned by Live Strong, vitamin E is essential for the growth and repair of tissue, which means it can help heal damaged hair follicles and make your hair grow.
The science behind it: According to experts at Nuts.com, pumpkin seeds are full of vitamin E, zinc and magnesium. These skin essentials help your cells regenerate more effectively and fight off the harmful bacteria. It even works to prevent acne. Score.
Pro tip: Pumpkin seeds aren't the only part of the pumpkin you can use. Use the orange guts as a mask for a silky, smooth mane by mixing it with coconut oil, yogurt and honey.
Skip the buffalo wings -- pass the celery, please.
Before you reach for the last, hot sauce-soaked, juicy wing, let's talk first. We aren't suggesting you skip the wings in favor of the veggies (who wants to live life like that?), but before you gobble up all the meat, you'd be shocked to hear just how hair-healthy the celery is for your roots.
The benefits: Since it contains multiple vitamins, a juicy celery stalk can help smooth strands. It's also a great source of the mineral silica, which strengthens hair for toughness and anti-breakage.
The science behind it: If you're looking for the Triple Threat of hair, we're pretty sure we've just found it. Vitamin A is a fierce anti-aging supplement; vitamin C is a powerful antioxidant that helps fight aging (read: grays!); and vitamin E is a fantastic moisturizer and repairing agent. Together, all three nourish follicles for smoother, shinier hair.
Silica helps to strengthen your blood vessels, encouraging blood flow to your scalp to allow for robust hair growth.
Pro tip: For nourishment and thickening, try mashing celery to a pulp and applying to damp hair before rinsing thoroughly.
Be a mean meat-eater.
What's more ladylike than ordering a Ribeye on a first date and eating it with your hands?
The benefits: Listen up brittle, thin-haired ladies: too little iron means bad news for your tresses, like premature balding bad. Luckily, lean red meat is dense in iron, so you now have a foolproof excuse to chow down on a steak at dinner tonight.
The science behind it: Iron is a major player in keeping your hair follicles healthy. According to BBC Good Food:
The hair follicle and root are fed by a nutrient-rich blood supply.
When your iron levels start to dip, your body feels the effects of anaemia, messing with the nutrients your hungry follicles need. A lack of the nutrient-rich mineral f*cks up your hair growth cycle and results in excessive shedding. Yikes.
Pro tip: On its own, red meat probably isn't enough to get you the amount of iron you need. (And who wants to snack on jerky day after day?) Try a daily supplement or opt for a fresh spinach salad when you can.