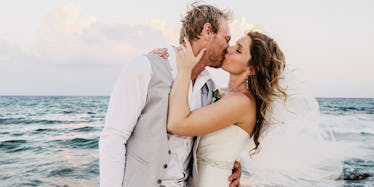 This Woman Is On A Mission To Change The Way We Look At Our Bodies (Video)
Stocksy
Ever wonder why women feel the need to Photoshop, pluck, primp, and never simply just... embrace?
Taryn Brumfitt is on a mission to get women to change the way they think of their bodies, and convince them to accept the imperfections instead of trying to change or feel bad about them.
In her new documentary, "EMBRACE," Brumfitt asked 100 women to describe their bodies. The adjectives used were self-depreciating, but probably not surprising.
Common responses included "disgusting," "wobbly," "stumpy" and "average," proving that many women are dealing with the same insecurities with which Brumfitt herself struggled.
But Brumfitt wasn't satisfied with her fellow females constantly mistreating themselves. She looked to her own daughter, and thought how sad it would be if the young girl grew up, only to continue the cycle of self-loathing.
Brumfitt decided to change her own life, so she entered into a body building competition, lost a ton of weight and attained a svelte physique. But she was surprised when "nothing changed" — she still felt nagging insecurities.
When Brumfitt gained back some of the weight she had shed for the competition, she decided that she liked her "after" body — the curvy one — better. Posting this revelation to Facebook earned her 3.6 million "likes."
Brumfitt is now on a mission to teach women to love their bodies, no matter what their perceived imperfections may be.
With a Kickstarter campaign to help with the production of her documentary, Brumfitt wants to spread the message that "everyBODY is beautiful."
H/T: Huffington Post, Photos Courtesy: Taryn Brumfitt