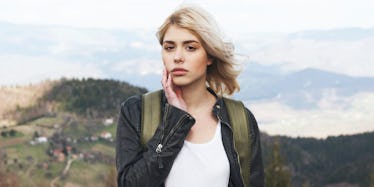 Spa Hacks: Treating Your Overtired, Overworked Self At Home And Saving Money
Facials to eliminate blackheads or acne, scrubs to make skin glow, massages to relieve tense shoulders -- all these spa treatments sound like nice ideas but not super practical for those who are tight on money.
Being in the early stages of careers, working overtime to make sure rent and bills get paid, and a variety of other circumstances means forgetting about pampering oneself for some time. So, for those who hustle, but don't want to look beat-down by the bustle, here are a few spa hacks to refresh your mind and body.
You'll be so glowing and refreshed that people will think you spent a week at a spa retreat, rather than chasing an 80-hour workweek with a weekend bender.
Body Scrubs
When winter rolls around, my skin starts to go full-cobra. I love a good snakeskin accessory, but not so much as a look for my legs. Whether your skin is prone to getting dry and flakey, or it's just a bit dull, scrubs are a great way to remove that dead layer of skin and reveal new, healthy, glowing skin. Sugars exfoliate the skin, the oils help prevent your new skin from drying out, and extracts add that spa-like aromatherapy experience.
For the exfoliator, I use sugar. I like sugar scrubs, rather than salt scrubs, because it's cheaper to experiment with different kinds of sugar; if you find you don't love a sugar you tried in a scrub, you can just throw it into your coffee or next batch of cookies. I've found that I like the granularity and scratch of turbinado sugar.
Coconut oil is my favorite because it hydrates, softens, AND won't leave your skin feeling oily. It also has lots of other uses in at-home beauty treatments. That said, olive oil and almond oil also work very well. Just don't use your vegetable oil - that will leave you feeling greasier than Paula Dean's kitchen counters.
Coffee grounds can be added to any scrub. The caffeine in them is a natural skin tightener and antioxidant.
This is not an exact science; the ratios of ingredients in scrubs are guidelines, as are the quantities. You may find that you can double or halve recipes depending on how much surface area you have to cover.
Sugar & Honey Scrub Recipe:
-       ½ cup sugar
-       ¼ cup honey
Vanilla-Almond Sugar Scrub
-       ½ cup sugar
-       ¼ cup coconut oil
-       1 teaspoon vitamin E oil (optional)
-       1 teaspoon vanilla extract
-       1 teaspoon almond extract
Pumpkin Pie Scrub
-       ½ cup brown sugar
-       ½ cup coconut oil
-       ¼ cup canned pumpkin (optional)
-       1 teaspoon cinnamon
Facials
Facials are a nice way to treat blackouts and breakouts, reduce puffiness and brighten skin. You should always begin these facials with a freshly washed, dry face. Apply the mixtures to the face and neck, and relax for about 15 to 20 minutes. To remove, rinse face with water, and gently pat (don't scrub/wipe!) dry.
Either of the following can be used individually, but if you really want to go all out, begin with the facial scrub, then open pores by resting a washcloth dipped in warm water on your face for several minutes, and finally finish with the mask. Go ahead, treat yo' self.
Oatmeal Face Mask
This is ideal for those with sensitive skin.
-       1/3 cup oats, finely ground
-       3 tablespoons of plain yogurt, preferably whole-milk
-       2 teaspoons honey
Vanilla Lavender Facial Scrub
-       ½ cup sugar
-       ¼ cup coconut oil
-       ½ teaspoon lavender extract
-       ½ teaspoon vanilla extract
Massage – Body Rolling
You're going to think I sound insane, but all you need to get those knots out of your back and shoulders is a tennis ball. It's the poor man's massage.
Like any good knot-working massage, it's not going to be the most pleasant experience of your life, but it will relax those tight areas. Firstly, place ball on the floor. Next, lay down on the ball. Then, roll the stress-wracked, knotted area back and forth over ball until the knot disappears. Boom.
If you want to get a little fancier with it, you should check out Yamuna Body Rolling. Some brilliant person took the tennis ball idea, elaborated upon it with different ball sizes of varying squishiness, and ta-da!
A whole new exercise cult was founded. I have actually tried one of these classes, and it's great for knotty shoulders, tense backs, tight I.T. bands and anyone else who spends too much time hunched over a computer. This book shows you the many places you can go with your tennis ball massage.
Are You Lazier And/Or Slightly Less Broke?
There are many "premade" at-home spa treatments, which, though pricier than mixing your masks and scrubs, are still substantially more affordable than a day at the spa. The Bliss Peppermint Body Scrub is one of my all-time favorite scrubs because the peppermint leaves your skin feeling so fresh and tingly.
Sephora's Body Scrubs, in vanilla or coconut, offer an equally enjoyable alternative at a lower price-point, as does C. Booth's Ginger Sugar Scrub. For facials, there are a few kits that offer a lot of value for the price tag (i.e. multiple uses), like BIOELEMENTS Deep Cleansing Kit or Tarte's Clay Mask System.
Get The Ingredients
For the above recipes, most of the ingredients can be found at organic grocery stores (if the store has a bulk section, it's a great way to buy in smaller quantities), or specialty kitchen stores.
Though some individual ingredients seem a tad pricey, keep in mind that they provide many, many at-home treatments for a fraction of the cost of a single spa treatment. Or, if you get sick of DIY-ing your beauty routine before they're used up, you can always just use them to bake a bunch of cookies. You can also find them online because, well, you can find everything online.
Top Photo Credit: Shutter Stock