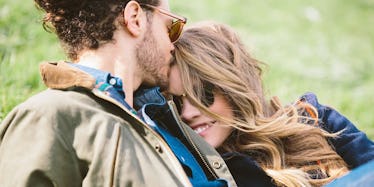 'Fifty Shades Of Grey' Nail Polish Collection Is OPI's Sexiest Yet
Stocksy
Nail color company OPI is no stranger to epic collaborations: In the past, the brand has teamed up with the Kardashians, Coca-Cola and even the Muppets to create custom collections (and that's just naming a few).
The company's latest venture? A "Fifty Shades Of Grey"-inspired nail polish collection, set to roll out in time for Valentine's Day -- and, of course, the film's highly-anticipated release (see the latest naughty trailer here).
But instead of a full 50 shades, the collection includes five grey nail lacquers and a candy-apple red shade for a sexy pop of color.
OPI 50 Shades of Grey Inspired Nail Polishes http://t.co/mHozOWpV5D pic.twitter.com/XLILgKjudm — BravuraLondon Amanda (@BravuraLondon) November 6, 2014
You'll be able to nab the bottles individually or splurge on a mini-set that includes all of the shades come January 1.
If you're familiar with the brand, you know that OPI gets super creative with naming their polishes, and the shades in this collection are no exception.
Here's the full rundown:
My Silk Tie, a metallic silver-gray; Dark Side Of The Mood, a deep charcoal; Shine For Me, a sparkly blue-gray; Cement The Deal, a light, cement-like shade; Embrace The Gray, a medium dove gray; and Romantically Involved, a pure, candy-apple red.
@OPI_PRODUCTS x 50 Shades of Grey, le coffret de vernis à ongles http://t.co/tiCP5pu2sL via @meltyfashion pic.twitter.com/2qGLQ62ZkM — Manon R. (@ManonNinetyOne) November 17, 2014
While a collection full of grey lacquers sounds less than exciting, trust us: They're all as sexy as E.L. James' book itself.
No promises that it'll make your sex life any kinkier, though.
Citations: OPI Is Releasing A Fifty Shades Of Grey Nail Polish Collection (MTV News)