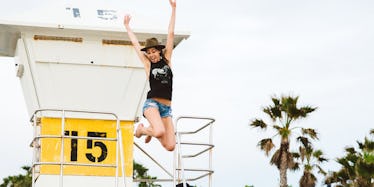 15 Items Every Millennial Girl Should Have In Her Purse At All Times
Stocksy
When you're a young professional woman, you're always on the go -- running from the office to the gym, from the gym to drinks with friends, from the restaurant to the subway, from the train to that boy's place...
As a result, our purses have inadvertently become tiny homes.
We feel compelled to carry around all of our essentials because we never know when we're going to stop home, or what we're going to need next.
Every Millennial woman needs those clutch items in her bag to get her from apartment to desk to happy hour in one, gliding movement. We don't have time to slow down for uncontrollable bangs or a lack of lip balm; there's just too much world to digest!
We got an inside peek into the purses of a group of 20-something women to find out which accessories they rely on to keep going without a hitch.
1. Sometimes, you forget that one important step in the morning, in which case, make sure you have...
Travel deodorant! There will be a day when you forget to apply deodorant and you will thank me for this advice. I use Dove Cool Essentials. If you don't remember to use deodorant and already smell bad, this has enough of a scent to mask it.
Emily A., 23, carries an Everlane tote to the office.
2. When your skin is chapped from the cold wind, always carry...
Hand lotion! Preferably any that has a delicious scent. Cracked knuckles are so painful and seem to suddenly strike at the most random times. Moisturize your skin to get it all soft, and then rub the excess on your neck so you smell good when someone hugs you. I like classic Nivea. That's my favorite.
Alexia L., 21, brings a sporty backpack to the office so she can hit the gym after work.
3. A girl can get away with anything, as long as she's wearing the right shade of...
Lipstick. I won't go anywhere without my Revlon Super Lustrous lipstick. Their Mink shade is natural enough to give my lips an effortless-looking dark hue. I use it all time! I'll be the first to admit I wear it to the gym, the grocery store and around my apartment. Even if other people can't tell the difference or no one else sees it, it makes me feel pretty and confident to have lips that pop.
Kelley L., 23, shrugs a large LuLu tote in black to the office/gym/grocery store.
4. When you can't help but wear those new, fabulous heels, be sure to remember...
Band-Aids for blisters. I keep them on me because I have a thing with socks; I'm never wearing the right ones. So during winter, I always have cuts on my ankles, and in spring I never break-in my shoes before wearing them... which only means more cuts. Since I live in NYC, I walk everywhere. Instead of having an excuse to pay for cabs, or waiting forever for the subway, I stick these in my bag so I can continue strolling. I always have them just in case.
Kylie M., 26, lugs a medium-sized tote to the office.
5. And, when you just can't stop pressing snooze before your shower, grab...
Dry shampoo is my saving grace and both volumizes and degreases my hair. Batiste is, hands down, my favorite. I use it daily to add volume to my roots and completely refresh next-day hair -- aka when I don't feel like showering. If you're going out after work, it can give your hair a little pick-me-up, too.
Elizabeth B., 25, brings a backpack or a tote to work/gym/dinner/bars.
6. And, if running on 2 percent makes you nervous, make sure you remember your...
Phone charger. I'm socially awkward and hate having to ask people to borrow theirs. Plus, I hate when people ask me for mine; I'm secretly scared they won't return it.
Laura A., 24, carries a large, blue tote to the office.
7. Listen to Mom's advice and always carry...
At least two forms of money for life's unexpected moments. I'd never forget two forms of currency: cash, credit, debit, gift card, anything -- because of my anxiety about spontaneous disasters.
Alexis G., 24, shuffles a black Michael Kors tote to the office.
8. To keep your lips soft for your cute coffee date, don't forget...
Chapstick! You never know who you're going to end up kissing later at the bar. I prefer medicated Blistex. I use it every morning before I get on the subway, after lunch and before drinks with friends. It keeps my lips soft when it's so cold out!
Diana R., 24, uses a small, navy and tan clutch to travel to and from the office.
I swear by EOS Smooth Sphere Lip Balm; I use it on a daily basis. It isn't the most moisturizing lip balm I've used, but it's good for emergency scenarios or a quick fix. Mine never leaves my bag, unless it's on my desk at work. My work bag is also my gym bag/carryall, so I'm always losing things in it. But, because this lip balm is bright and bigger than just a tube of Chapstick, I can always find it.
Lydia M., 23, brings a black, boho bag to the office.
9. For moisture and a hint of color...
Tinted lip balm has you covered. I love Fresh Lip Sugar Treatment in plum. The color is a nice, sheer berry hue that works well for everyday wear, since it's not too pigmented. It adds just the right amount of color and shine to be noticeable, but not so much you need to worry about fading or reapplying. It's my go-to because my lips are really sensitive and get chapped easily, so I always need to carry around a Chapstick, and since it's tinted, it almost doubles as a lip gloss, saving me from carrying around extra stuff.
Gillian F., 21, carries a big black purse to the office.
10. To fight dark circles when you're out on the town, always have...
NARS concealer. Apply it directly to your under eye area instead of mixing it with a liquid concealer and using your finger, which takes too much time -- aka, this is perfect for when you spend the night at random places.
Brittany L., 23, totes a medium Coach bag to the office.
11. A lady should always smell as good as she looks, so spritz...
Perfume: I never leave the house without it. The best way to go is with samples or with a small refillable container, which is great for brands that don't have rollers on their samples. I love Gucci Guilty because it fits perfectly in my bag and has the convenient roller-ball on the end.
Teddie A., 21, prefers a large, classic Louis tote to bring to the office/class.
12. When you're wearing the right lip color, but don't want it to run...
I use the Original Cocoa Butter Balm Stick by Palmer's because it isn't sticky or scented. It's my go-to because I know it won't smudge my lipstick when I'm out for the night.
Sarah S., 25, brings a Nasty Gal backpack to the office/happy hour.
13. When your hair gets out of control...
Bobby pins are a saving grace. I always carry bobby pins in my purse because I never know when my bangs are going to start acting straight-up crazy on me and need to be holstered. I get the ones at CVS for like $5 because I lose them all the time.
Michelle L., 28, choses a small green backpack for the office.
14. When you need to touch up your eyes, don't forget your...
Mascara and eyeliner. I bring them as a combo. Before heading to happy hour, it's super important to make sure your liner isn't smudged and your lashes look fresh. I'm in love with Lash-Stiletto by Maybelline and I use whatever cheap-o purple eyeliner I can find at CVS. Purple also helps bring out the green in my eyes.
Gigi E., 24, shrugs a large, black vintage tote to the office/dinners.
15. And, since you never know where you might end up...
A hairbrush is a must. I carry around a little hairbrush because I never know what the wind situation is going to be outside. It's also really helpful if you sleep over at your boyfriend's house because it's not like he owns one.
Olivia N., 23, carries a medium laptop bag to the office.