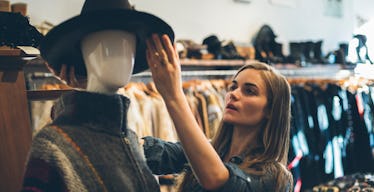 Grey Is The New Black: The Unexpected New Trend In Hair Color
Stocksy
This summer was all about rainbow hair.
It seemed you couldn't scroll through your Instagram feed or browse the Internet without stumbling upon photos of girls with pastel-tinted locks or colorful rainbow braids.
But, as all trends do, the obsession with candy-colored hair seems to have faded — literally.
And in its place? Shades of grey (but not the kind governed over by Christian).
It's a surprising choice, given that aging is usually met with a constant battle to eliminate grey hairs: Dozens of hair dyes on the market are made specifically for covering up errant greys, and a 2013 survey by cosmetics company Nurture Replenish revealed that 57 percent of women fear going grey.
Part of this may be due in part to the supposed "stigma" that surrounds aging: In a 2012 study, 42 percent of women reported feeling the need to look youthful in order to be successful in their careers.
But perhaps the ageist agenda is dissolving. Loads of trendsetting celebs have been seen sporting silver strands, including Kylie Jenner and "Orange Is The New Black" actress Dascha Polanco, effectively branding the alternative hair color as cool.
Some champion grey hair as a fresh alternative to bold hues, while others simply appreciate that intentionally greyed hair is unexpected.
As with most trends, it likely started on the runway: In Marc Jacobs' Fall '14 show, models walked down the runway sporting powdery nude locks, introducing, for the first time, anti-color as a fashion statement.
Slowly the rest of the world caught on to the genius that is "going grey." And now, they're going fast.
Because now, grey hair isn't a symbol of aging, it's a symbol of high fashion.
The shade is no longer relegated to the old. Instead, young, fresh-faced beauties are hopping on the silver-streaked bandwagon, too.
But by breaking the symbolic relationship between aging and greying, we've accomplished something else: lessened the stigma of aging itself.
If grey hair is suddenly chic, discrimination against those who are naturally grey can't happen. It no longer makes sense.
Though the fashion industry lags behind most in terms of diversity, this is a step in the right direction, even if motivated by aesthetics rather than social change.
By going grey, celebs and models (inadvertently) communicate a positive message of acceptance.
And that is a trend worth following.
Citations: Everyone From Kylie Jenner to Charlotte Free Is Going Gray (Style.com ), Aging a concern for many Americans but harder for women, poll finds (Fox News)