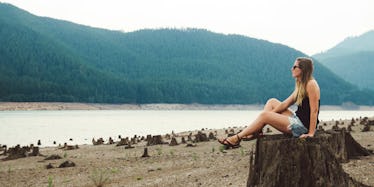 The Dangers of DIY Skincare: 6 Times You Should See The Doctor
Stocksy
No one enjoys visiting the doctor's office, but especially the dermatologist where all those sharp objects and injectables look like something out of "Dexter."
We will literally try anything to avoid going -- and that's where we run into trouble. It's that pesky pimple you can't stop picking at that eventually morphs into a crater.
Or those growing clusters of night creams eating more of your dresser space than your fleshy wrinkles. Sometimes we put too much faith in our own home remedies and end up making our skin problems worse.
Put down the homemade toothpaste concoction!
We spoke to two successful and notable dermatologists on which skin treatments are pure bogus, which are scary-dangerous and when it's best to book a doctor's appointment.
1. Microneedling
Microneedling is a newer therapy in which a special pen or roller-like device with a cluster of needles at the tip delivers miniscule needle pricks to stimulate collagen and the skin's natural healing process.
Although it sounds painful, doctors and enthusiasts assert that microneedling can minimize wrinkles and greatly improve the appearance of scars. Microneedling kits are available to use in your home.
Dermatologists and skin technicians also offer more advanced microneedling treatments.
Doctor's verdict: Don't try this one at home. According to prominent Nashville, Tenn. dermatologist and EndyMed Medical consultant, Dr. Michael Gold, do-it-yourself microneedling is "potentially dangerous" and a "much bloodier" procedure. "Microneedling does make a difference in the office setting. You have to go to someone who knows what they are doing."
Dermo alternative: Dr. Gold suggests visiting a licensed dermatologist if you're interested in microneedling to avoid scarring or dermatitis after penetrating the skin.
EndyMed, in particular, is a radiofrequency device used in-office that, along with a host of other functions like body contouring and hyperpigmentation treatment, is particularly efficient at skin rejuvenation and healing acne scars even faster.
"Because of the radiofrequency there is no bleeding post-op. The downside is remarkably little. Patient responses are really, really good," explains Dr. Gold.
2. Lasers
Companies have recently begun manufacturing lasers and light sources for at-home usage.
These powerful beams are advertised for hair removal, facial rejuvenation and improving the appearance of sun damage and fine lines.
Doctor's verdict: Be wary of these strong promises. Dr. Gold cautions to be careful when purchasing these products, "Anything you can do at home is a maintainence of what the doctor should be doing in his office.
And anything you use at home should be an FDA-cleared device. Especially for the skin on your face." Just remember, anything that's too good to be true is too good to be true.
Dermo alternative: "I can do a lot of magical things with needles and lasers and so forth," adds Dr. Gold, "but you can't do that at home. We can give you adjunct skincare."
If you're considering removing that mustache for good, you might want to check in with the doctor first before you go burning your face off.
3. Acne Treatment
There are hundreds of acne treatments available without a prescription -- chief among them being your own fingers.
Sometimes, we'll even get real crazy and apply body creams to our face or vice versa. There have been some fatal instances involving toothpaste. Literally we'll try anything to get rid of a big, blotchy blemish.
Doctor's verdict: Follow directions and don't get out of hand. "It's best not to pop pimples at home because they can lead to deep acne cysts or scars. I've even seen infections," advises New York City Dermatologist Dr. Debra Jaliman.
"Acne medicines meant for the face are much milder than acne medicines meant for the body." Meaning, don't play doctor if you aren't one.
Derma alternative: If you want to avoid a visit to the dermatologist, Dr. Jaliman recommends Clean & Clear ADVANTAGE® Acne Spot Treatment. Otherwise, you can make an appointment to have your face-crater treated and injected, which will heal the pimple much faster than topical creams.
4. Microdermabrasions
Microdermabrasion is a non-invasive cosmetic procedure that exfoliates the outer layers of the skin. "They are good for getting rid of bumps, uneven color and improving the texture of the skin," says Dr. Jaliman.
Doctor's verdict: You're good to go.
"Microdermabrasions at home are not as strong as the ones done in a doctors office," clarifies Dr. Jaliman. "I strongly recommend them to my patients as they can be done weekly at home. In a doctor's office we do them every two to four weeks."
Dermo alternative: There are various treatments on the market that promise to improve your skin's texture.
If you're nervous about doing it yourself (our shaky hands combined with our inexperience doesn't bode well), you can visit the dermatologist to perform a more specialized procedure. "I also use an in-office Microdermabrasion, which is very effective and light facial peels, which have no downtime," suggests Dr. Jaliman.
5. Crow's feet creams
We've all been bombarded in the department stores and overwhelmed at the drugstore enough to know that wrinkle creams are the holy grail of home-beauty and, according to my shar pei, "seriously changes your life."
Tons of lotions claim they can erase these fine lines and signs of aging.
Doctor's verdict: It's temporary. Dr. Gold warns, "Beware of things -- you can't make crow's feet go away with lotions and creams. You can reduce the appearance because [these lotions] swell and moisturize the skin." You can't make crow's feet totally disappear with creams. Put on a happy face.
Dermo alternative: There are very potent cosmeceuticals and products containing retinol that improve texture, color and fine lines. Dr. Jaliman recommends RoC Retinol Correxion® Deep Wrinkle Night Cream. "Otherwise, I would look to do most procedures in a doctors office like Botox, lasers and filler," she adds. Slurp, slurp.
6. Cellulite
Dr. Gold sums up our struggle with lady lumps accurately, "Cellulite is one of the holy grails."
Indeed, if you are fortunate enough to inherit sucker-puncher thighs, it is very hard to totally erase it.
This is also why skin tightening is one of the biggest emerging markets in dermatology. We want our legs to look freakin' awesome when we exit a taxi, basically.
Doctor's verdict: It's a quick fix. Cellulite creams, says Dr. Gold, "Don't do much, they just make it look better for a while." If you do purchase a cellulite lotion, make sure it includes caffeine and niacinamide, which temporarily reduce the appearance.
Dermo alternative: Go somewhere reputable with safe devices, which will be much more effective than rubbing on creams.
Some companies are even researching injectables. Or, go see Dr. Gold, who's in-office procedure using EndyMed or Velashape are great at skin tightening.