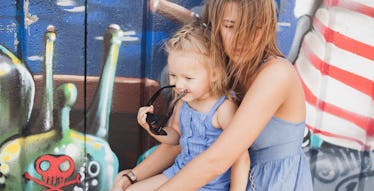 Beauty On A Budget: 10 Drug Store Beauty Buys For 20-Something Women
Stocksy
Women are blessed in that we get to play around with makeup to make us look our very best; whereas men have to just deal with the bare face with which they were born.
While women are not forced to wear makeup, it's still a lot of fun, and there's a lot we can do with it. The issue with makeup, though, is there are so many different things we want to buy; yet, we have very limited budgets.
We ladies face a bit of a disadvantage in the hygiene department in general because we have more sensitive skin and, therefore, need many more beauty products in order to keep our skin looking radiant and our makeup looking flawless.
With limited funds to devote to our beauty regimens, it's important to be savvy with our purchases.
Though we would love to spend all of our free time perusing Sephora and have the luxury of spending $25+ on eye shadow, that just isn't realistic.
Elite Daily teamed up with professional makeup artist, Sarah-Jane Beatty of Sarah Jane Makeup Artistry to get the skinny on the best drug store beauty buys for Millennial ladies.
Must-Have Face Mask
In the winter, with the blistering wind battering our skin and drying it out, it's important to invest in regular face mask treatments to keep our skin looking its best.
Beatty recommends the M-61 Power Glow Peel.
For $28 for 10 treatments, it's quite the steal and will get you through this freezing season. I don't think I've ever experienced such immediate results in my skin with anything else. Glycolic and Salicylic Acid exfoliate while Chamomile and Vitamin K soothe your skin.
The treatments will leave your skin with an even tone and texture. Sign us up!
Blue Mercury M-61 Power Glow Peel, $28, Amazon 
Spread on the Moisturizer
With our skin especially prone to dryness during this time of year, a girl has to rely on a great moisturizer to keep her skin feeling supple.
Try Simple Replenishing Rich Moisturizer. Beatty says:
I was very pleased to find the Simple product line gave me the right amount of moisture with zero skin irritation.
Beatty also adds that this cream is especially perfect for acne prone skin.
Simple Replenishing Rich Moisturizer, $9, Amazon 
Eye Cream is a Must
Now that we're in our 20s, we need to start using eye cream. The skin around the eyes is some of the most sensitive and, therefore, prone to wrinkles.
Neutrogena Healthy Skin Eye Cream is ophthalmologist tested and hypoallergenic; this cream won't cause unwanted irritation.
Beatty assures that it "leaves your eye area hydrated and firm, while reducing fine lines and reducing dark circles."
It's perfect for the night owl and comes in at a low price point among the competition at $13.
Neutrogena Healthy Skin Eye Cream, $13, Amazon
Never Start a Makeup Routine Without the Right BB Cream
Before any makeup application can take place, it's vital to protect your skin from the elements with a great BB cream.
This product can be pricey, but luckily, it doesn't have to be. Beatty says NYX BB Cream is her go-to.
She says it gives "beautiful sheer color and coverage, [and it's] oil free and light enough that you don't feel like you're wearing anything."
NYX BB Cream, $9, Amazon
Foundation: the Base of all Things Beauty
When it comes to foundation, a girl needs full coverage and a natural color so she doesn't end up looking like a clown.
Beatty recommends L'oreal True Match, which comes in warm neutral and cool shades, so that finding the perfect tone is made easy.
The matte coverage will also eliminate any unwanted shine -- no one wants to look like a grease monkey. You can find this foundation for as low as $7.
L'Oreal True Match Super Blendable Makeup, $7, Target 
Line Your Eyes like Catwoman
For these freezing, wet months, you'll need to line your eyes with something that will stay put. For Beatty, L'Oreal Lacquer Liner 24H in "Blackest Black" is the only way to go for $7:
Anyone who knows me knows I'm a huge fan of gel liner. It provides the precision of liquid, but the thicker texture allows you more control. This L'Oreal liner glides on smooth and has serious staying power ... it also comes with a brush!
L'Oreal Infallible Lacquer Liner 24H, $7, Amazon 
The Bigger the Lashes, the Better
Of course, the only way to follow up eyeliner is with a ball-busting mascara. Hunting down an affordable mascara might be one of the hardest parts of a Millennial girl's beauty product roundup.
Luckily for us gals, Beatty has solved the mystery with Maybelline Great Lash Washable Mascara.
It has a big fluffy brush, much larger than the original, and never clumps -- ever. Perfect for building huge voluminous lashes while maintaining separation and definition.
How can you argue with that for $3?
Maybelline Great Lash Washable Mascara, $3, Amazon
Staying Sun-Kissed on Winter Days
When the temperature drops to freezing levels and the sun is constantly hidden behind a haze of grey, your summer tan will fade and leave your skin as pasty as Elmer's glue.
To combat this inevitability, we need to dab (emphasis on dab, Snooki) on a bit of bronzer to give our faces some much-needed color.
Beatty recommends Rimmel Natural Bronzer for $4, as it has a matte finish and doubles as a great contour powder.
Rimmel Natural Bronzer, $4, Target 
Keep those Lips Kissably Soft
Keeping your lips soft and hydrated is an ongoing task in a girl's life. Beatty recommends Smith's Rosebud Salve for $7 and uses it herself every night as part of her bedtime beauty routine.
The subtle, pleasant smell and soft texture will delight your nose and keep your lips feeling velvety all day long.
Smith's Rosebud Salve, $7, Amazon 
Pout with the Color of a Minx
For those big nights out, you'll need a great lipstick you can depend on to get you through all those tequila shots and bargain cocktails. Try ELF Matte Lip Color in "Rich Red" at just $3 because, as Beatty puts it:
[It's a] stunning shade of red, easy to use twist up crayon, matte finish. Every girl should have a red lipstick on deck at all times, and at this price you can't beat it.
A girl in red lipstick is always a force to be reckoned with, and that is one fact all of us Millennial girls can relate to.
E.L.F. Matte Lip Color, $3.50, E.L.F.