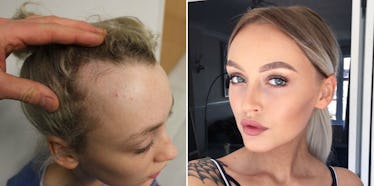 Former Ballerina Reveals The Horrible Effects Of Always Wearing A Tight Bun
Dr. Edward Ball
When a ballerina makes waves on the internet, she's done one of two things: become Misty Copeland or started to talk about the image-based standards of the ballet world.
Diva Hollands from Epsom, England, is the latter. The former dancer (and, more recently, mom) is speaking out about the extreme hair loss she fought after years of wearing a tight bun.
Hollands picked up her ballet shoes at just 3 years old, and she even trained at the Royal Ballet School before leaving dance behind when she turned 18.
There's a reason it's called a "ballerina" bun.
My childhood memories of competitive dancing involve hair scraped back with a comb and secured with no less than 10 hairpins (not to mention a hairnet). Ouch, especially for my poor follicles.
Hollands, 22, blames her bun for a hairline that receded to the middle of her scalp. She told the press she was constantly bullied about her appearance, and that insecurity stretched into adulthood. After two pregnancies, she'd lost even more hair.
Traction alopecia, balding induced by tight hairstyles that pull hair, isn't a new term. Remember the report that man buns were going to leave your boyfriend bald? We're talking about the same condition.
Hollands explained,
It affected me a lot, especially as I was being picked on. I remember the exact words a boy at school said to me; he said I had a forehead the size of a football pitch. It then became such a big thing in my life.
So, Hollands got serious.
She underwent an eight-hour surgical follicular unit transplantation in October of 2015, in which surgeon Dr. Edward Ball moved a strip of healthy skin with hair follicles from the back of her head to the front.
Voila, a new hairline!
Even the strip in the back of Hollands' head has since grown back.
Ball, now of The Maitland Clinic, explained,
It's amazing to see how much it boosts people once they've had it done – it's like they've had a new lease of life. You wouldn't believe the effect it can have.
Today, Hollands has a new look and is (judging by her Instagram) quite obviously feeling herself.
And as for you, just think twice before pulling your hair into that Kim K-style ponytail.
Leave a little room to breathe, why don't you?
Citations: This Ballerina Lost Her Hair After Wearing It in a Bun Every Day (Good Housekeeping)