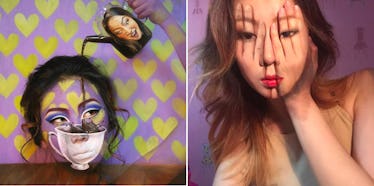 You Won't Be Able To Stop Staring At This Artist's Insane Optical Illusions
There's more artistry in the makeup world than we usually notice.
Men might think women just apply a smokey eye with no effort, but it's actually a complex visual look.
In order to avoid a black eyeshadow disaster that says "narcoleptic raccoon" rather than "sensual evening swan," some consideration of light and shadows comes into play. Your crease is violet and your eyelid has a dab of pearlescent shimmer in the middle, creating the illusion your eye is bigger and set deeper than it actually is.
The fact is this: If you can paint your face, you can probably paint a canvas. And when it comes to South Korean artist Dain Yoon, 22, the two are inseparable.
The art student is attracting viral attention for her ability to turn her face into art, flawlessly executing optical illusions that play on her own features. Need five extra eyeballs or for your face to blend into wallpaper? She's your girl.
In case you're curious as to how the magic happens, Yoon also includes behind-the-scenes videos of her transformations. Try watching them just once.
Let's start with the most obvious transformation. In this self-portrait, Yoon side-eyes her own image.
Hide-and-seek isn't quite the same when your face is on your hand. There's only one involved in this illusion.
Why pay for plastic surgery when you could just paint yourself a new chin entirely?
Don't do drugs, kids.
Yoon said this particular illusion made her dizzy, but it's nothing compared to how I feel looking at it.
Contour game too strong, honestly.
Peeta could have used Yoon's skills in "The Hunger Games."
This is so much better than his crappy tree optical illusion.
Now you see me, now you don't. I wonder how long she stood there.
There's a 30 percent chance the skies are already clear and blue.
Here's a new way to pick out tile for your bathroom.
Eye see what you did there.
We can only hope she tries this fake hand illusion out on a sleeping friend and totally terrifies the person.
Creating a smokey eye is challenging enough without also painting a fake one.
Spooky.
There are multiple layers of illusion here. Can you see them?
Excuse me while I rest my poor, befuddled eyeballs.
Citations: Can YOU work out what's real and what's fake in this picture? Artist wows thousands by transforming her face and hands into mind-boggling visual illusions (Daily Mail)