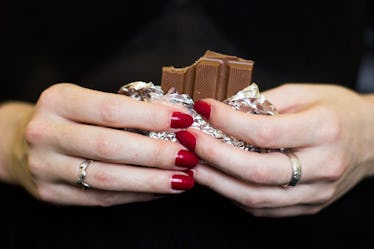 This App Monitors Your Period And Sends You Gifts, Including Chocolate
If you're a woman in a very broad age range, you've probably used a period tracking app to get a better handle on your natural cycle. And while it's a helpful tool, it probably doesn't get you all that excited about the sh*tstorm of cramps and bloating coming your way.
Luckily, the Monthly Gift app is looking to change that. After entering the dates your period generally starts and ends, then answering a quick questionnaire, the service will send you all the period supplies you need, along with "Emergency Chocolate." Because you know you're going to want it.
While the basic version of the app that sends reminders is free, a subscription fee between $10 and $13 will get you the full package. And, just in time for Women's History Month, Monthly Gift will donate a box of supplies to women in need for every subscription purchased during the month of March.
The donations will go to Days for Girls, an organization that helps girls in developing countries get the menstrual supplies they desperately need.
So, to summarize, for ten bucks, you'll get tampons delivered to your door, a chocolate bar and a dose of good karma. Now, the only question is, where's my credit card?
Citations: This App Will Track Your Period--and Send You Supplies (Glamour)