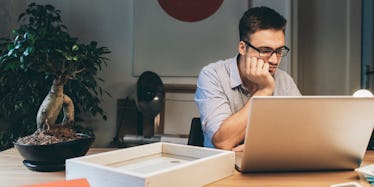 8 Pearls Of Wisdom Taylor Swift Taught The World About Life And Love
Stocksy
Taylor Swift is my age and a seven-time Grammy winner. She is the youngest winner in the history of the music industry's highest honor: the Grammy Award for Album of the Year.
She is the only female artist in music history (and just the fourth artist ever) to twice have an album (2012's RED and 2010's Speak Now) hit the one million first-week sales figure.
Taylor Swift is, point blank, a badass — not only a badass, but also a role model to all women.
So, while she is making it BIG at my age, I am still making my own accomplishments in a much different way.
Here are 8 things Taylor Swift taught me:
1. How to be a badass
She is 24 years old and topping the charts in the music industry. She has worked hard for her success and is a role model to women to remind them they can do the same.
2. Never apologize for who you are
Taylor Swift is herself, through it all regardless of those who mock her, cut her down or push her down. Swift rises above it and pushes through the negative.
She reminds us to be okay with who we are and those who matter love us for it.
3. To not fear the outcome
She took big chances by writing about personal experiences, especially her dating life, but instead of fearing what these people think, she helps people relate.
She has taken major risks in her career and each risk comes with fear. However, Swift has worked through her fears to become fearless and follow her dreams.
4. To give back
Even with her fame and busy schedule, Swift doesn't take for granted what she has. She not only supports organizations, but also encourages others to do the same.
She also has a special place in her heart for her fans. She makes special trips to see them, invite them to her house and share many things with them. One thing that makes Swift special is how she stays down to earth through her fame.
5. It is okay to admit you are broken
Many people feel as though they cannot admit they are broken down by loss. Taylor Swift does a great job at showing us it is okay to be broken for a little bit, but it is how you move forward that defines you.
In the lyrics to "All To Well," she uses the line, "And I know it's long gone, and that magic's not here no more, and I might be okay, but I'm not fine at all."
She reminds us that through the long promise of a breakup, between the memories and the heartache, you may not be fine at all for now, but you are okay. It is a process we will all get through.
6. Celebrate others' successes
Not many people celebrate others' success when trying to get to the top. She always praises her friends for what they have accomplished, as well. The way she talks about her idols and her peers is amazing.
She always gives credit where it is due and always makes sure her friends get the praise they need.
7. Do not be afraid to love
Taylor Swift shows us it is okay to feel every passion and every relationship to the fullest. It is okay to love with your whole heart and to give to others, regardless of any pain that may come with it.
We are all afraid to put everything into a relationship because we are afraid of heartbreak. Swift shows that even though it may not work out, it is important to put your all into it because then, you will not have regrets about love.
You will know you did everything you could and you can move on if someone wasn't the one for you.
8. Dream big
Never give up on your dreams. Everything takes work, but if you have the will, you will find a way.
Swift worked for years to make her dreams come true. She made sacrifices and put in overtime to get to where she is. Work hard at your dreams because you never know where they will take you.