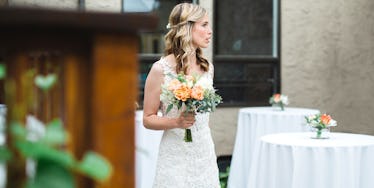 6 Timeless Life Lessons Every Girl Can Learn From 'Breakfast At Tiffany's'
Stocksy
On the corner of 5th Ave and East 57th streets in New York, you'll find her elegant face staring back at you at every tourist stand that sells canvases, bags, phone cases or key rings. That's the location where she started it all.
She symbolizes everlasting beauty and classiness with her fitted black dress, Ray Bans, freshwater pearls and spangled tiara. Even 50 years later, Audrey Hepburn continues to revolutionize urbanity and sophistication.
While the character of Holly Golightly in "Breakfast at Tiffany's" may have been inadvertently unraveling at the seams, — taking money from escorts and relaying information to a drug dealer in prison — she did it with class.
It's no wonder she is a top contender on Wednesdays for #WCW.
In fact, Holly's free-spirited boldness, fashion-forward choices and rambling sentences still managed to pry Paul Varjak away from the lustful arms of his millionaire cougar — even with her champagne taste on beer money budget. Now, that's a woman.
So, why is it that when you're having an awful day, your go-to classic is "Breakfast at Tiffany's"? Well, it's simply because the film is littered with life lessons acted out by beautiful people. Here are some of most the unforgettable lessons Miss. Golightly tastefully demonstrates:
1. A black dress and pearls are wardrobe necessities.
It doesn't matter that you may not have everything figured out. Hey, if you can rock a black dress and some classic pearls, you give off a vibe of sophistication. To the outside world, it looks you have your act together.
Yes, you may be confused about your feelings for your neighbor, or maybe, you're such a commitment-phobe that you can't even stick to a name for your cat, but to everyone else, you're a girl who pays her bills on time.
Not to mention, a black dress is as important a necessity for so many different occasions.
2. Fake it until you make it.
It's the oldest trick in the book: If you don't feel like washing your hair, throw it up or wear a stylish hat. When Paul meets Holly for the first time, she frantically throws together an outfit due to her late visit with Sal.
Paul is stunned when she prances out of the bathroom, going from "hot mess" to "hotness" in 60 seconds. Even if you don't have the time, find a way to make it look like you had the time. Bobby pins and hairspray are a girl's best friend.
3. Find someone who knows (and loves) every side of you.
You know he's a keeper when he frolics around New York City with you wearing something ridiculous. Or, how about when you try to tap into your inner Betty Crocker and prepare a delectable meal, only for the recipe to blow up in your face?
A person who sees every flaw and still manages to find you perfect is a winner. You may not see it immediately, but sometimes, the right person has been in front of you the whole time.
4. An animal companion never lets you down.
Even if you're broke, single, unemployed or just trying to discover who you really are, your pet will love you, no matter what your bank account balance reads.
Dating may be replete with uncertainties and anxiety, but your pet will always be your reliable companion at the end of a long day.
5. Money will only make you so happy.
Throughout the film, it's clear that while Holly thinks she knows what will make her happy — a rich man —, she really doesn't understand what she wants until her desperation brings clarity.
In the end, she finds happiness with novelist Paul. While he may not be a multi-millionaire, she comes to realize that she is happier being herself with someone who loves her, rather than trying to be someone she's not.
It's always better to be yourself and have one person love you rather than have a dozen friends who don't know who you really are.
6. What's your remedy for the "Mean Reds"?
The most important life lesson portrayed in "Breakfast at Tiffany's" is that you really do need a remedy for the "Mean Reds."
There will be days when you will angry or afraid, and you won't be able to pin down exactly what's bothering you. Whether it is reading a good book, ordering pizza or watching a movie, life's better when you know exactly what to do when the Mean Reds attack.
Photo Courtesy: Paramount Pictures/Breakfast at Tiffany's