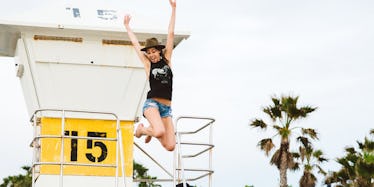 4chan Trolls Attempt To Create 'Feminist Civil War' With 'Fourth Wave Feminism'
Stocksy
Last week's Bikini Bridge "hoax" captivated, enraged and convinced many Internet users through its push to make #BikiniBridge the new selfie trend of 2014.
Now, The Daily Dot has revealed that the anonymous posters over at the 4chan forum who started this unfortunate trend — hoax or not — are using their Bikini Bridge publicity in an attempt to undermine another female-friendly institution (and no, it's not your self-confidence, ladies): feminism.
Those who thought up the Bikini Bridge are engaged in a connected, but no less ill-conceived, mission to create a new strand of feminist theory, uncreatively called "Operation Fourth Wave Feminism."
But as the writers over at The Daily Dot aptly point out, "feminism is too complicated for a site full of historically ignorant dudes."
What the misogynist masterminds over at 4chan have planned for their fourth wave feminist movement — which they determine will emphasize the "attractiveness and sexualization of skinny and fit female bodies" — is not in direct violation of the tenets of the already operational third-wave feminism.
Sorry to disappoint the 4chan community, but there will be no "feminist civil war" (which I can only imagine these posters view as more of a chocolate-pudding chick fight than a serious intellectual discussion among concerned women scholars and activists).
Because as The Daily Dot articulates, third-wave feminism accounts for a multi-perspective approach to women's issues, and advocates for the experiences of all different types (and yes, that includes body types) of people.
Although "Operation Fourth Wave Feminism" has attempted to garner Bikini Bridge-esque hype through platforms such as a Facebook page, Tumblr blogs and a sub-Reddit forum (which all reflect ideas so inane and elementary that the links aren't worth reposting), consider it a mission impossible.