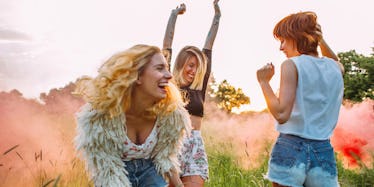 4 Apps That Help You Pump Your Girl Power To The Next Level
This year has been the year of women.
We've got our girl Hillary in the running to be the first-ever female president of the United States, the US women's gymnastics team stole the gold with a kickass performance and Sheryl Sandberg continues to dominate the tech industry, along with her nonprofit organization Lean In.
These women are truly inspirational and offer hope for a brighter, more uplifting future. They are continuously breaking down boundaries and setting awe-inspiring examples.
So how can you partake in this female revolution? Well firstly, keep doin' you, and secondly, take a look at these four apps to help you embrace your girl power:
Express yourself.
No matter your age, race or religion, women need a safe place to express their thoughts and feelings. For the younger crowd, having strong female role models to look up to is key, and that's what Amy Poehler's Smart Girls is all about.
Spanning over a multitude of platforms, such as a web series, Tumblr and more, this site is truly a go-to for those looking for female-led inspiration.
Smart Girls heavily emphasizes the importance of uniqueness, individuality, intelligence and self-love and takes the idea of "community" to a whole new level.
Communicate with other like-minded individuals (of all genders), find volunteer positions, read about inspirational women making a change and above all, take advantage of their motto "Change the world by being yourself."
Want to join this movement? Follow them on Facebook, Instagram and Pinterest to stay up to date on their latest news.
Let your body move to the music.
Life can get stressful at times. Work, bills, social relationships, family and maintaining your individuality can combine to result in a perfect implosion.
When it all gets to be too much, what do you do? Dance it out.
Call up your friends and have a night out on the town. Let the music exhilarate you and help you dance that stress away. Thanks to Akross, you can now find the best parties in the fastest, easiest way.
With this app, you can crowdsource the best parties in your area. Follow their in-app social newsfeed to get updates from inside the venue you're interested in checking out. You and your friends can get a realistic idea about the venue's vibe, without having to enter the place itself.
It even lists the male-to-female ratio, so you can plan accordingly, based on whether you're looking for a hookup or a night focused on time with your girlfriends.
Currently only available for iOS, this free app will help you find the best party spots and guarantee you have exactly the type of evening you're looking for.
We are living in a material world.
America is the land of the free and the home of the brave. It's also a perfect example of capitalism, consumerism and a need to constantly find new things.
Money aside, constantly feeling obligated to have the newest, most efficient product is slightly ridiculous. Yet, these cues are everywhere, both online and in real life. It can be a lot to handle, especially when you're looking to be productive. And real talk here: To conquer the world, we need as much concentration as possible.
Thanks to the SelfControl app, you can now prevent yourself from getting distracted online.
Currently available as a Chrome extension on Macs, SelfControl allows you to set up blocks on websites and mail servers, based on your exact specifications and timetables.
Make sure you watch your settings carefully, though, because this app doesn't mess around. It maintains a hold on your block list, even if you delete the app.
I'm hung up; I'm hung up on you.
Zen is an art form, but learning how to find and take hold of your happy place can be tough.
You've got a lot going on, and you never know when things might get to be too much. Should you find yourself in a position where you're overloaded in a way not even your mom can fix, there's help waiting.
Koko is a revolutionary app that offers a safe place to release your emotions, feelings, anxieties, fears and whatever else you need to let go of.
Self-described as providing "emotional support as a service," this app truly combines the spirit of love with the convenience of technology. Anonymously share your questions, concerns or requests for advice through this platform to receive a crowdsourced answer, built from artificial intelligence.
Do you prefer human responses? No worries. Koko offers a community that can give you responses from other members as well.
Available for iOS only, this free app can help you unlock your zen place in no time.
2016 has been an amazing year for women. We're on the road to equality, (Thanks for the encouragement, Emma Watson!) and we have unlimited potential ahead of us.
Don't wait any longer. Let today mark the first step in making a difference in our world, as a woman, as a source of inspiration and most importantly, as a fulfilled version of yourself.